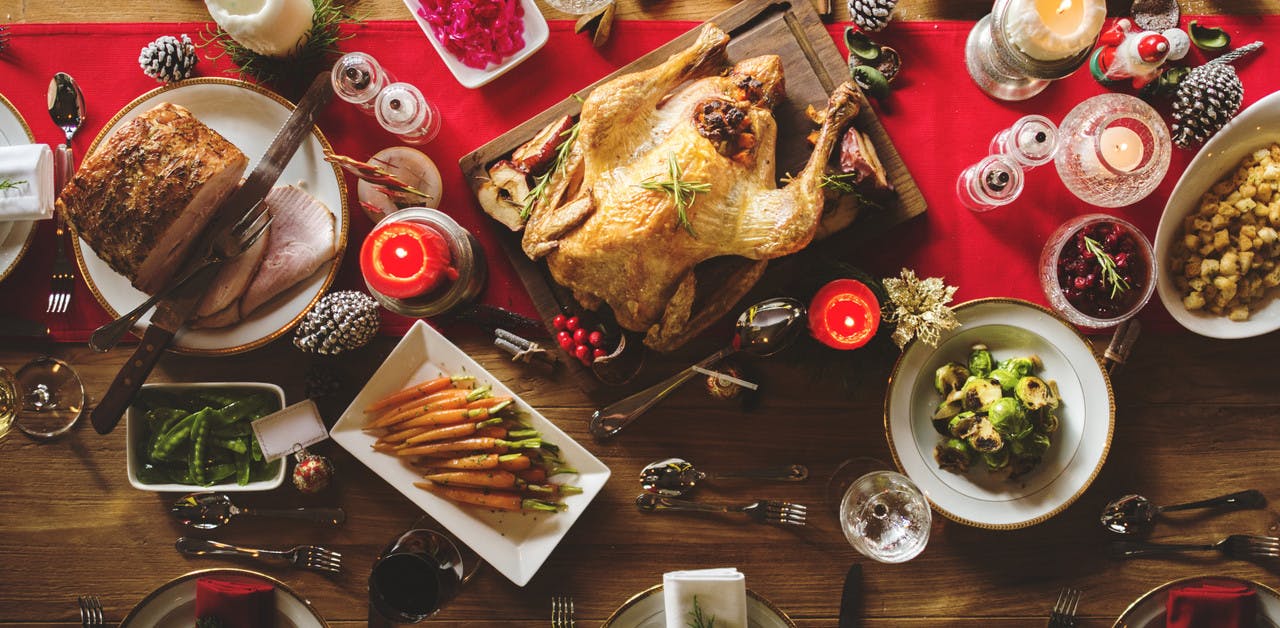 The best Christmas mains (and how to pick them!)
Making a call on your Christmas centrepiece depends on many factors. The three most important things to consider are:
How many people you're feeding
How much time you have
How much stove or oven space is available
We've narrowed down our favourites so you'll be sure to please everyone at the table!
Turkey
Who doesn't love this white meat with a bit of gravy and cranberry sauce come Christmas time? Turkeys can serve up to 30 people depending on size and cut. To find the perfect turkey option for you (and learn how to cook it), check out our handy guide.
Ham
When it comes to the pig, you've got two option: ham and pork.
Ham can be sliced and eaten cold, or if you're feeling fancy you can add a yummy, sticky glaze and roast it in the oven for something extra.  
A whole leg of ham can weigh up to 6kg, and can serve up to 20 people. If that's too much, you can opt for a boneless half. The latter option will let you feed less guests (up to four) but still have leftovers.
Pork
Pork however, will require roasting in the oven. This means you'll need a tasty (but not too complicated) recipe to follow - like this one from Food in A Minute.
The size of your pork roast will vary depending on what part of the pig you're cooking. For example, a 2.5kg pork shoulder will serve up to eight people, whereas a 1kg piece pork belly, boned, will serve up to 5 people.
If you're unsure on size, our team would love to help you out.
Seafood
What's more Australian than chowing down on some prawns and oysters on a sunny Christmas day?
When it comes to prawns, you can choose from cutlets, cooked or raw:
Cutlets are typically fried, but can also be baked. Their tails are kept on, but the rest of the prawn shell is removed.
Cooked prawns are boiled at sea as soon as they're caught, and you can buy them with their shells on or removed.
Raw prawns are typically green and will require additional cooking.
Vegetarian
Skipping the meat this Christmas? Try these Mexican Stuffed Capsicums, a Summer Pumpkin Dhal or this Spinach, Pesto and Parmesan Lasagna.
Check out our ultimate guide to Christmas day planning.
We'll help you find the perfect Christmas centrepiece
We're delivering all the way up to December 24 - just be sure to place your order for meat and seafood centrepieces by Monday December 19. Plus, you can rest easy with a 100% delivery guarantee on Christmas centrepieces.
Click here to find out how to secure your delivery slot and make a Christmas order.
Want some help?
If you're not sure which one to order or want to check it'll be the right size, just give our Customer Happiness team a call on 1300 851 343.
Click here to place your Christmas order.
Better food starts today
Home grocery delivery from the best local shops