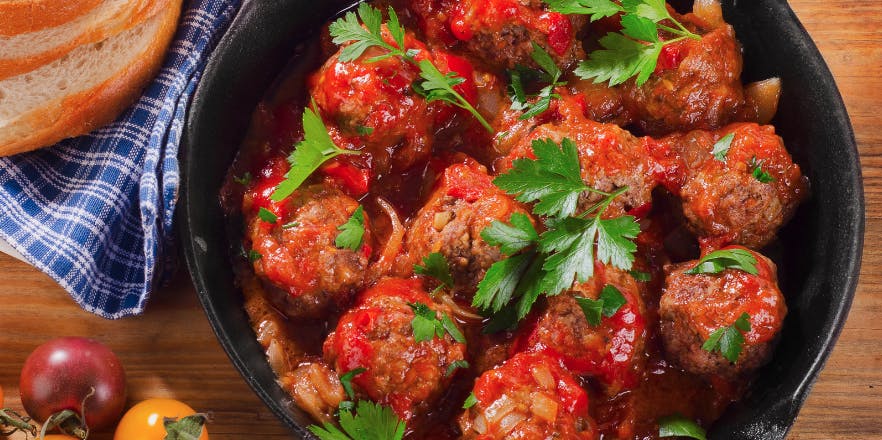 Meatballs two ways
This classic hearty dish is fun to make and goes a long way. Add some fresh pasta and Bon appétit!
Check out these two simple meat or vegetarian meatball recipes the whole family will love.


Meatballs in Tomato Sauce
This classic dish is fun to make with hearty meatballs swimming in a tasty tomato sauce.
Serves: 6 people

Ingredients
Simply order before 11am to get these ingredients delivered to your doorstep the same afternoon.
500g beef mince
2 slices bread, turned into breadcrumbs
1/2 small brown onion, finely diced
1 clove garlic, crushed
1 tbsp tomato sauce
1 tbsp soy sauce
1 egg, slightly beaten
1 tbsp olive oil
2 cups (500g) tomato passata or 2 x 400g tins of diced tomatoes
1 tbsp fresh basil, finely chopped

Method
1. Mix the mince, onion, garlic, breadcrumbs, sauces, and egg thoroughly in a large bowl.
2. Shape the meat mixture into small golf ball-sized meatballs.
3. Add the olive oil to the frying pan and bring to a high heat. Add the meatballs, turning each one until browned all over.
4. Reduce the heat and add the tomatoes and basil. Turn each meatball over again so they're coated in the tomato and basil mixture.
5. Put a lid on the pan and allow the meatballs to cook through (approximately 20 mins), turning occasionally.
6. Serve atop freshly cooked fettuccine and garnish with grated parmesan.

Notes
The tomato sauce really doesn't need anything more as the sauces in the meatballs will flavour the whole dish.
If you find the sauce is drying out a little as the meatballs cook, either add a little more tomatoes or some stock or water to the frying pan.

This recipe was adapted from Ella Walsh at www.kidspot.com.au.

Vegetarian Mushroom Balls
A delicious vegetarian alternative to the classic beef meatball, these balls are packed with mushrooms, walnuts, parsley, and parmesan, and they're just as hearty as the real thing!

Serves: 2-4 people

Ingredients
Simply order before 11am to get these ingredients delivered to your doorstep the same afternoon.

Balls
350g mushrooms, finely diced
1 brown onion, peeled and finely diced
2/3 cup (approx. 75g) walnuts
20g shaved parmesan cheese (or nutritional yeast for a vegan alternative)
1 teaspoon chilli flakes
1 cup (approx. 60g) parsley, roughly chopped
Pinch of salt
Sauce
400g tinned diced tomatoes
2 tablespoons chopped parsley
1 garlic clove, minced
1 tablespoon soy sauce

Method
1. Preheat the oven to 200°C (fan-forced) and heat a non-stick frying pan over medium heat.
2. Fry the mushrooms and onion, stirring until most of the liquid has evaporated, then set aside.
3. Add the walnuts, parmesan, chilli flakes, parsley, and salt to food processor. Pulse a few times.
4. Add the cooked mushroom and onion. Continue pulsing until the mxture is evenly combined and begins to stick together.
5. Line a large baking tray with baking paper. Roll the mixture into about 2-3 cm balls and space them evenly on the tray. Bake in the oven for 25 minutes.
6. Combine the sauce ingredients in a non-stick frying pan and simmer gently for a few minutes before adding the cooked balls. Continue to simmer for a further couple of minutes.
7. Serve the mushroom balls and sauce over freshly cooked pasta and garnish with some grated parmesan.

This recipe was adapted from 'Whole' by Harriet Birrel.
Need a hand? Reach out to our Customer Happiness team online or on 1300 851 343.
Better food starts today
Home grocery delivery from the best local shops