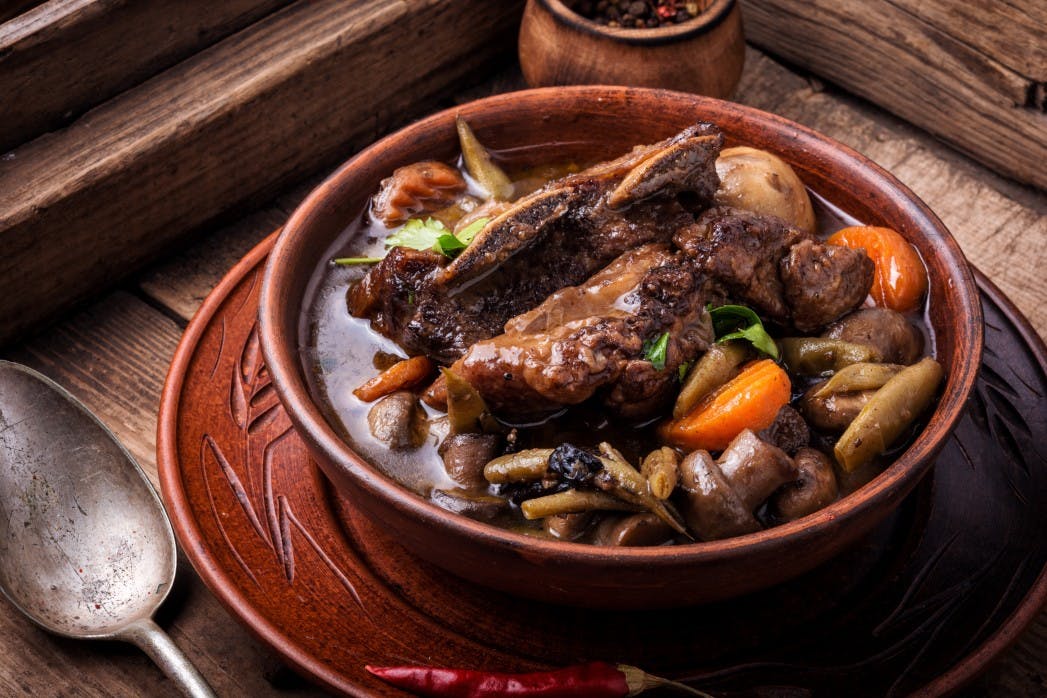 Julia Child's iconic Beef Bourguignon
A good stew is a classic winter warmer dish and a great way to feed a group of people. It's also even better the next day making for a hearty and easy lunch.
While we may think of stews as a humble meal, an extended cooking time and some elevated ingredients can generate a richness and depth of flavour that will warm even the coldest winter's eve.
Beef bourguignon is the quintessential French classic and this recipe from the iconic Julia Child introduces refined technique and rich flavour. The beef brisket is braised with vegetables and herbs in red wine before being garnished with pearl onions, mushrooms, and bacon. It may sound simple but there is no substitute for slow braising to develop flavour.
Simply order before 11am to get these ingredients delivered to your doorstep the same afternoon.
Serves: 6-8 people | Prep: 15 minutes | Cook: 3 hours
Ingredients
1 tablespoon extra-virgin olive oil
170g bacon, roughly chopped
1 1/2 kg beef brisket, trimmed of fat (chuck steak or stewing beef) cut into 2-inch chunks
1 large carrot sliced 1/2-inch thick
1 large white onion, diced
6 cloves garlic, minced (divided)
1 pinch coarse salt and freshly ground pepper
2 tablespoons flour
12 small pearl onions (if you can't find pearl you can quarter a medium onion)
3 cups red wine like Merlot, Pinot Noir, or a Chianti -- for a milder sauce, use only 2 cups of wine
2-3 cups beef stock (if using 2 cups of wine, use 3 cups beef stock)
2 tablespoons tomato paste
1 beef bouillon cube, crushed
1 teaspoon fresh thyme, finely chopped
2 tablespoons fresh parsley, finely chopped (divided)
2 bay leaves
400g fresh small white or brown mushrooms, quartered
2 tablespoons butter
Method
1. Preheat oven to 175°C.
2. Heat the oil in a large heavy-based pot. Sauté the bacon over medium heat for 3 minutes, until crisp and browned. Transfer with a slotted spoon to a large dish and set aside.
3. Pat the beef dry with paper towel; sear in batches in the hot oil and bacon fat until browned on all sides. Remove to the dish with the bacon.
4. In the remaining oil/bacon fat, sauté the carrots and diced onions until softened, (3 minutes), then add 4 cloves minced garlic and cook for 1 minute. Drain excess fat (leave about 1 tablespoon in the pan) and return the bacon and beef back into the pot; season with 1/2 teaspoon coarse salt and 1/4 teaspoon ground pepper. Sprinkle with flour, toss well and cook for 4-5 minutes to brown.
5. Add the pearl onions, wine and enough stock so that the meat is only just covered. Then add the tomato paste, bullion and herbs. Bring to a simmer.
6. Cover and transfer to the lower part of the oven and simmer for 2 to 3 hours, or until the meat is fall-apart tender (adjust the heat so that the liquid simmers very slowly).
7. In the last 5 minutes of cooking time, prepare your mushrooms:
8. Heat the butter in a medium-sized pan over heat. When the foam subsides, add the remaining 2 cloves of garlic and cook until fragrant (30 seconds), then add in the mushrooms. Cook for about 5 minutes, while shaking the pan occasionally to coat with the butter. Season with salt and pepper, if desired. Set aside once browned.
9. Place a colander over a large pot (can be done in the clean kitchen sink). Remove the casserole from the oven and carefully empty its contents into the colander (you want to collect the sauce only). Discard the herbs.
10. Return the beef mixture back into the pot. Add the mushrooms over the meat.
11. Remove any fat off the sauce (if any) and simmer for a minute or two, skimming off any additional fat which rises to the surface.
12. You should be left with about 2 1/2 cups of sauce thick enough to coat the back of a spoon lightly. If the sauce is too thick, add a few tablespoons of stock. If the sauce is too thin, boil it over medium heat for about 10 minutes, or until reduced to the right consistency.
13. Taste for seasoning and adjust salt and pepper, if desired. Pour the sauce over the meat and vegetables.
14. If you are serving immediately, simmer the beef bourguignon for 2 to 3 minutes to heat through.
15. Garnish with parsley and serve with mashed potatoes, rice or noodles
Need a hand? Reach out to our Customer Happiness team online or on 1300 851 343.
This recipe was adapted from Karina at cafedelights.com.
Better food starts today
Home grocery delivery from the best local shops