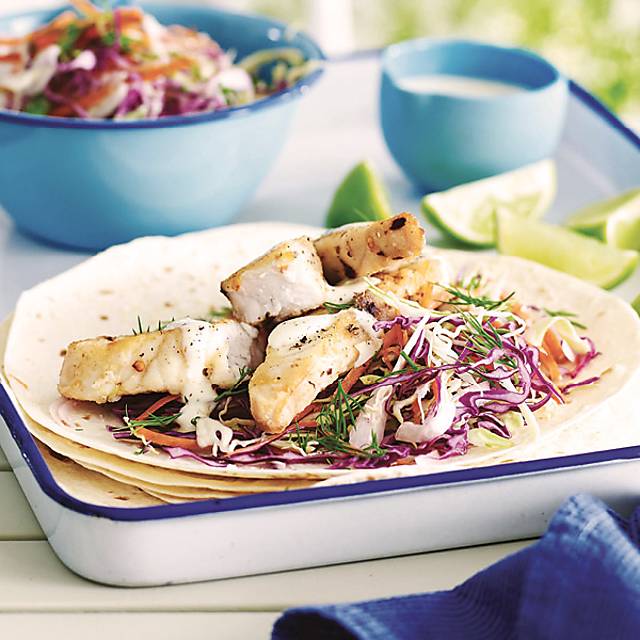 Soft Fish Tacos with Coleslaw & Sweet Chilli Sauce
30 mins active prep time, 4 servings
Ingredients
2 tbsp olive oil
1 tbsp plain flour
Sweet chilli sauce
600g flathead fillets
1 clove garlic, crushed
1 tsp red chilli, deseeded and finely chopped (optional)
1 avocado, mashed
1 cup tasty cheese, grated
8 tortillas
Sour cream, to serve
1/4 red cabbage, finely shredded
1/4 green cabbage, finely shredded
1 carrot, grated
1 red onion, peeled and thinly sliced
Method
1. Make coleslaw: Combine all coleslaw ingredients in a large bowl. Set aside.
2. Prepare frying pan: Preheat a non-stick frying pan over medium heat. Add olive oil to the pan.
3. Prepare fish: Combine chilli, garlic and flour in a small bowl, and then coat each piece of fish with the mixture.
4. Grill fish: Grill the fish over a medium heat for a couple of minutes each side, until cooked through and golden. Cut fish into 2cm thick strips.
5. Heat the wraps: Heat each wrap in the microwave for 20 seconds on high.
6. Prepare taco: Spread each tortilla with avocado then top with fish. Add coleslaw, tasty cheese, and then top with sour cream and sweet chilli sauce.
Better food starts today
Same day grocery delivery from the best local shops