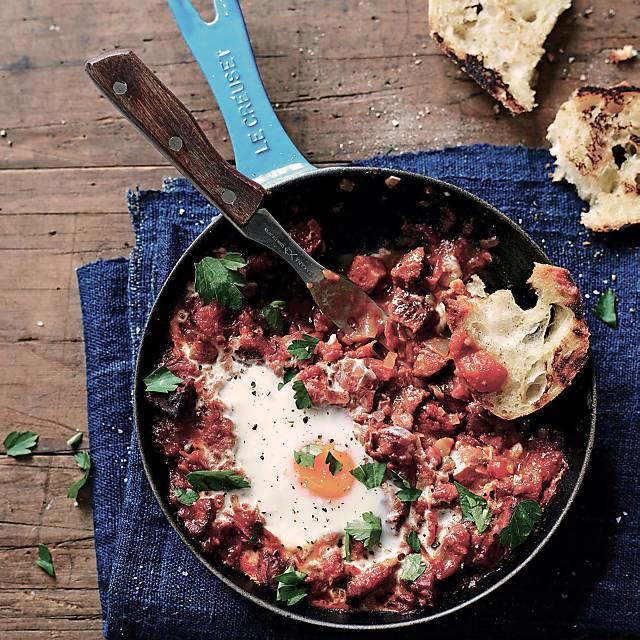 Spanish Baked Eggs with Toasted Sourdough
30 mins active prep time, 2 servings
This recipe is by Masterchef 2014 winner Brent Owens.
"I'm a big fan of Spanish food, especially the smoky paprika and chorizo, and this is one of my favourite breakfasts. Remember that the capers and anchovies are very salty, so taste, taste, taste throughout cooking to check the seasoning."
This recipe is from 'Dig In!' by Brent Owens, published by Hardie Grant Books, $49.99.
See full recipe at cooked.com.au
Photography © Mark Roper
Ingredients
2 tbsp sherry vinegar or red wine vinegar
1 garlic clove, finely chopped
1 tsp baby capers (optional), or add to your cart
2 anchovy fillets, chopped (optional), or add to your cart
250g chorizo, sliced
2 shallots, thinly sliced
1/4 tsp smoked paprika
1/4 teaspoon ground cumin
1/4 teaspoon cayenne pepper
400g tinned diced tomatos
2 eggs, at room temperature
Continental parsley, to serve
Chargrilled or toasted bread, to serve
Method
Jump across to Cooked.com.au for the full cooking method.
Better food starts today
Same day grocery delivery from the best local shops