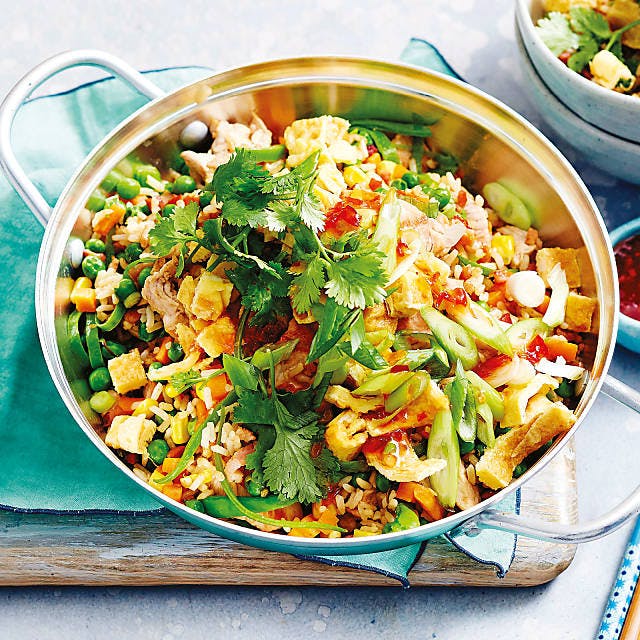 Chinese Pork with Egg Fried Rice
20 mins active prep time, 4 servings
A simple fried-rice like this is one of the easiest meals you can cook throughout the week. It's also an easy one to cook in bulk if you want to save some for super yummy lunches throughout the working week.
Main Ingredients:
500g pork mince (order from Meatwell)
2 eggs, lightly whisked
2 gloves garlic, crushed
2 cm piece ginger, peeled and grated
4 rashers bacon, diced
1 carrot, finely chopped
100g snow peas, thinly sliced
4 spring onions, finely chopped
1 corn cob, kernels removed
1 cup white rice
1/2 cup sweet chilli sauce
2 tbsp soy sauce
2 tbsp
2 tbsp olive oil
Method
1. Cook rice Bring a saucepan of water to the boil. Add rice and cook until tender. Drain and set aside.
2. Cook egg In a wok or large frying pan, heat half the oil on high. Add the egg and allow underside to set. Flip and cook other side for a few minutes. Remove egg, roll up and thinly slice.
3. Cook meat and veggies In the same wok, heat the other half of the oil on high. Add the pork mince and stir until well browned. Add bacon, garlic and ginger and reduce heat to medium and stir fry for a couple of minutes. Add carrot, corn, snow peas and spring onion and stir fry for 2 minutes.
4. Serve Stir in sauces, egg and rice and combine well. Serve fried rice in bowls.
Qǐng xiǎngyòng! (Enjoy!)
Better food starts today
Same day grocery delivery from the best local shops