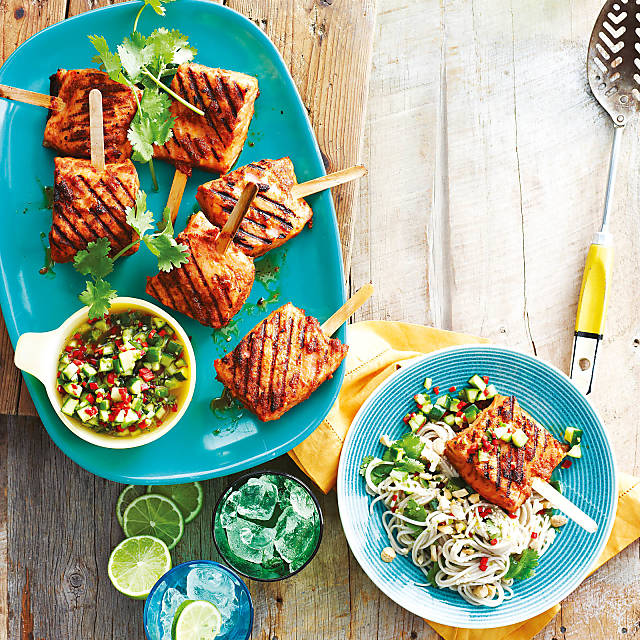 Barbequed Red Curry Salmon with Zesty Salsa
15 mins active prep time, 4 servings
This dish features delicious fresh salmon from Richmond Oysters grilled with delicious zesty flavours. If you don't have a barbecue or grill at home, pan frying the salmon will work just fine.
Ingredients
250g rice noodles
2 tbsp red curry paste
4 x 180g salmon fillets
2 Lebanese cucumbers, finely diced
2 tomatoes, finely diced
¼ cup fresh coriander, finely chopped, plus extra to
serve
1 red chilli, deseeded, finely chopped
¼ cup fresh lime juice
2 tbsp olive oil
2 tbsp soy sauce
1 tsp caster sugar
Method
1. Prepare noodles
Place rice noodles in a heat proof bowl. Cover with boiling water and allow to stand for 5 minutes. Drain and rinse under cold water. Set aside.
2. Make the salsa
To make the salsa, combine cucumber, tomatoes, coriander and red chilli in a medium size bowl. Mix together the lime juice, soy sauce and caster sugar and stir until sugar dissolves. Pour over the salsa.
3. Cook salmon
Combine the red curry paste and olive oil in a small bowl. Preheat a barbeque grill plate or char-grill pan on high. Place salmon fillets on pan and brush with red curry mixture. Cook for 2-3 minutes, before turning. Brush the other side of the salmon fillet with the red curry mixture. Cook for a further 2 minutes.
4. Serve
Serve salmon on a bed of noodles and top with the salsa and fresh coriander leaves.
Better food starts today
Same day grocery delivery from the best local shops