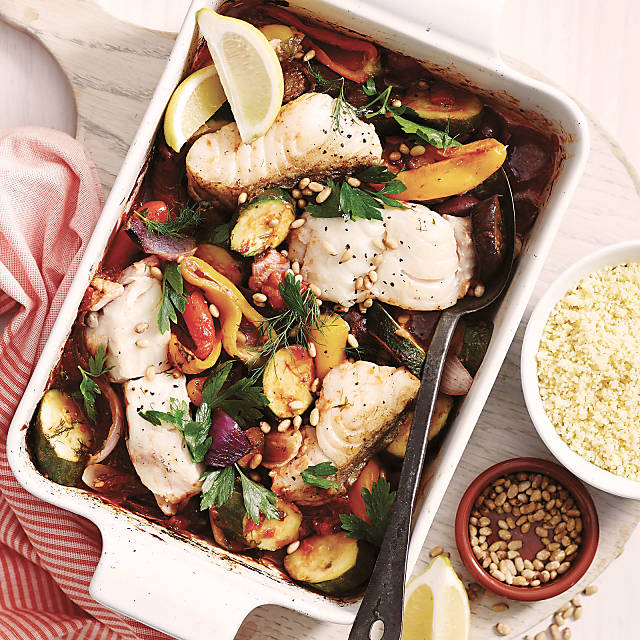 Mediterranean Fish Bake with Rockling Fillets
25 mins active prep time, 4 servings
This satisfying Mediterranean inspired fish bake includes Aussie rockling fillets from Richmond Oysters!
Ingredients
2 zucchini, in half lengthways, then thickly sliced
1 eggplant
2 yellow capsicum
1 red onion
2 garlic cloves, finely sliced
1 lemon, zest finely grated and juiced
400g canned diced tomatoes
1/4 cup kalamata olives
1/4 cup continental parsley, finely chopped
1/4 cup dill, finely chopped
2 cups cous cous, prepared following packed instructions.
2 tbsp olive oil
1 tbsp pine nuts
Method
1. Prepare oven and baking dish
Preheat an oven to 180°C.Drizzle half of the oil onto a baking dish.
2. Add vegetables to baking dish
Add the zucchini, eggplant, yellow capsicum, red onion, garlic and lemon zest to the dish.
3. Drench vegetables
Combine the other half of the olive oil with the lemon juice and pour half of the mixture over the vegetables.
4. Bake the vegetables
Bake the vegetables for 10-15 minutes and then add the diced tomatoes, olives and half of the chopped continental parsley and dill.
5. Bake the fish
Add the fish fillets to the baking tray, drizzle with remaining oil and lemon mixture and bake for a further 10-15 mins
6. Serve
Garnish with remaining herbs and pine nuts. Serve with cooked cous cous.
Better food starts today
Same day grocery delivery from the best local shops