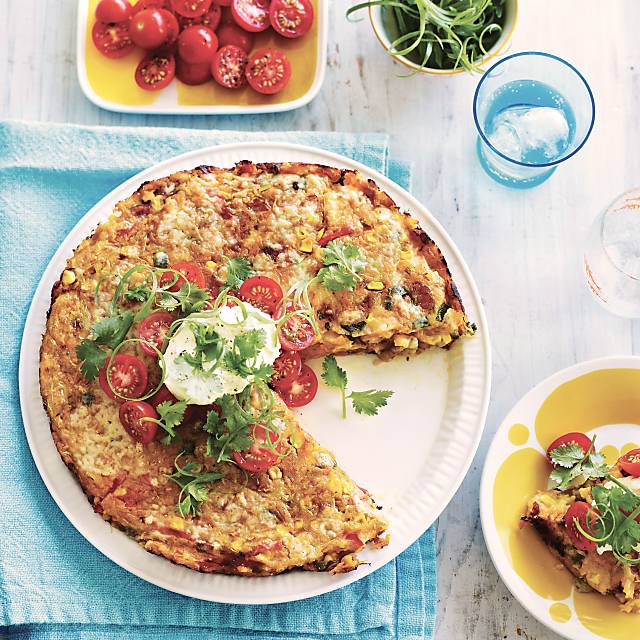 Mexican Hash Brown with Chorizo
25 mins active prep time, 4 servings
A super fun meal to really satisfy! To make this dish vegetarian-friendly, simply omit the chorizo and you've still got a super tasty meal.
Ingredients
1 chorizo, finely chopped
200g sweet potato, peeled and grated
700g potatoes, peeled and cut into pieces
1 red capsicum, peeled and cut into pieces
1 cup green cabbage, shredded, blanched
2 spring onions, finely chopped
120g cherry tomatoes, halved
1/4 cup tasty cheese, shredded
40g fresh coriander, chopped
1 corn cob, kernels removed
2 tsp cajun spice mix
1 tbsp olive oil
60g butter
Tasty cheese
Method
1. Preheat oven: Preheat the oven to 200°C.
2. Prepare potatoes: Meanwhile place the in a pot of salted water and bring to a boil, cook for 10-12 minutes until tender then drain and mash.
3. Saute chorizo with sweet potato and capsicum: In a large deep heavy base frying pan, heat the butter and oil together on medium heat. Saute the chorizo, sweet potato and capsicum for 3-4 minutes.
4. Add remaining vegetales: Add the corn and spice and saute for 3-4 minutes until fragrant. Stir in the mash, cabbage and onions. Season and mi well.
5. Cook mixture in pan: Reduce the heat the heat then spread the mixture in the pan and even out with a spatula. Weigh down with another pan and cook for 10 minutes.
6. Bake in mix in oven: Remove the pan, sprinkle with cheese and bake, uncovered, for 10-12 minutes until golden. Rest for 10 minutes.
Better food starts today
Same day grocery delivery from the best local shops