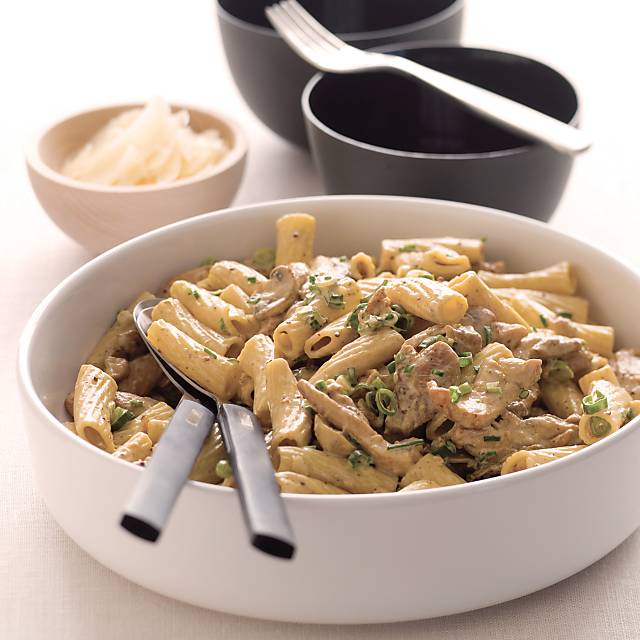 Chicken & Mushroom Rigatoni with Fresh Chives
25 mins active prep time, 4 servings
As the weather gets cooler, this creamy rigatoni is all you need for a lovely and toasty night in!
Ingredients
1kg chicken thigh fillets, chopped
200g button mushrooms, sliced thinly
2 garlic cloves, crushed
4 spring onions, sliced thinly
600ml thickened cream
1/4 cup fresh chives, chopped
1 tbsp olive oil
40g butter
1 tbsp seeded mustard
Method
1. Cook chicken: Heat the butter and half of the oil in a large frying pan. Cook chicken in batches until browned all over then remove from the pan.
2. Boil pasta: Meanwhile add the pasta to a large pan of salted boiling water. Boil uncovered until just tender, drain and return to the pan.
3. Cook the mushrooms, garlic and onion: Add the remaining butter to the same frypan. Add the mushrooms and cook, stirring until well browned. Add the garlic and onion. Cook, stirring until fragrant then return the chicken to the pan.
4. Add cream and mustard: Add the cream and mustard and bring to the boil. Reduce the heat and simmer, uncovered, for about 5 minutes or until thickened slightly and chicken is cooked through. Stir in the chives, season to taste with salt and pepper.
5. Combine creamy chicken sauce and pasta: Add the creamy chicken sauce to the pasta and toss gently.
6. Serve: Serve the pasta topped with parmesan.
Better food starts today
Same day grocery delivery from the best local shops