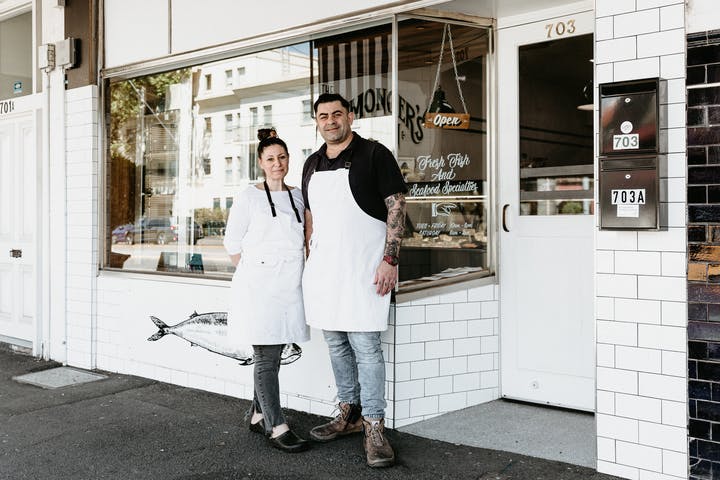 From The Fishmonger's Son, with love
A one of a kind seafood deli housed in Carlton North's historic Canals seafood store, The Fishmonger's Son has combined their love of food and culture to bring customers the highest quality seafood. We spoke to Laura to find out more about the iconic store.

A tribute to Anthony's father who worked as a fishmonger in the Footscray wholesale markets for some 40 years (with Anthony by his side for 20 of those), The Fishmonger's Son is a celebration of all things seafood, "from the freshest fish out of Australia and New Zealand, sourced sustainably, to a vast array of specialty seafood delicacies from local and international artisan producers (think salmon terrines, smoked fish, bottarga, caviars, tinned fish, seafood lasagne, salmon sausages, oyster knives, cookbooks, and the list goes on!)," says Laura, "we are the only seafood deli around! When we started no other fishmonger was selling much more than panko crumbs and tartare. Many of our peers kept coming in to offer their advice as they thought we did not know what we were doing. We love a traditional deli and our vision has always been very clear in that we wanted to create a space that is a destination for all things seafood (and the additional ingredients and tools to create your favourite seafood dishes)."

Always intending to open their store in North Carlton or North Fitzroy, when the opportunity presented itself to re-open Canals with its 100-year heritage Laura and Anthony knew that the stars had aligned and jumped right in, "we love our local community, it's been really nice to get to know our clientele."

Mindful of their impact on the environment, the business packs purchases in compostable produce bags and half dozen oyster trays, or wrapped in brown paper and bags as well as sourcing from suppliers who deliver the fish in reusable tubs with lids that are sent back, eliminating most packaging of incoming stock. "Thankfully we live in a country with the most stringent rules and guidelines on sustainable fishing practices so that helps in sourcing our fresh produce and should also give confidence to consumers," Laura adds.

The quality seafood isn't the only thing that keeps customers coming back, it's the personalised service and attention to detail. "Customers can expect to see a curated selection of the best fresh and specialty seafood available, and they can expect personalised service in selecting their produce too."

Ultimately, Laura and Anthony just love food and what it represents, "to break bread with your family and friends, there is no greater pleasure in life. Our backgrounds are Greek and Italian, food is an intrinsic part of our cultures. And seafood is the vehicle for us with Anthony's heritage in the industry."

We didn't forget to ask the experts what their go-to seafood dish is, "we love to cook! Our go-to is a nice piece of blue eye or swordfish on the bbq with a simple salad. Although lately it's been our new seafood lasagne or fish pie. Great seafood does not need much!"
Better food starts today
Same day grocery delivery from the best local shops