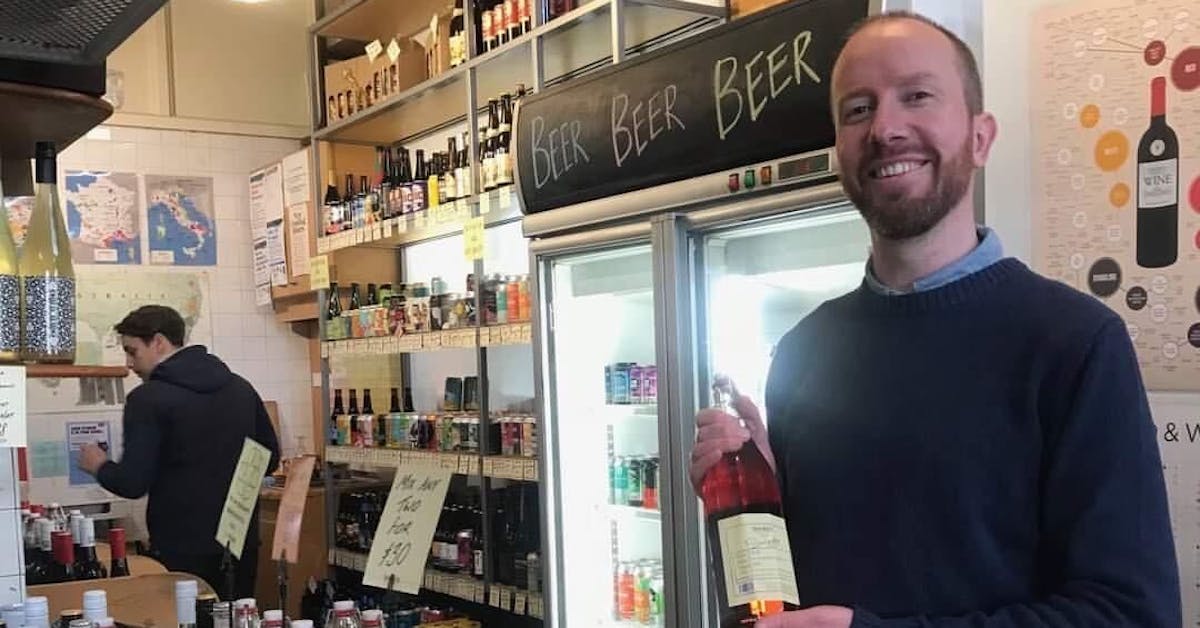 Return and refill at Swords Wines
An independent wine store established on Brunswick Street back in the eighties, Swords Wines is the cellar to go to if you're looking for quality, environmentally responsible wine. With shops now in Queen Victoria Market and South Melbourne Market, the business provides refillable bottles, a range of cleanskin and commercial wines, and a selection of local and international craft beer. We spoke to Brendan to find out more about the brand.
"We're an independent wine store in Melbourne. We used to have a shop on Brunswick Street in the eighties where people would bring their bottles in and fill them up on the spot. And that's what we still do. We've got shops now at Queen Victoria Market and the South Melbourne Market. People bring their empty bottle in and we swap it with a full one. We then take the empty bottles back to the warehouse, sanitise them, and fill them up with more wine and sell them to the next person," says Brendan.
If recycling your bottles isn't incentive enough, the business also offers a three dollar refund for each bottle that is returned. Along with this initiative, Swords locally source their products to ensure the carbon footprint from the vine to your glass is lowered as much as possible. "They're all coming from just north of Melbourne and up in the hills around Melbourne. We've also got a range of other people's wines from all over Victoria, Australia, and a few from around the world, along with a selection of beer too."
Coming from a winemaking background, Brendan has worked for the business for 12 years now. "I have worked in the wine industry for 20 years," says Brendan, with a customer returning a bottle as he speaks, "I've been living in Melbourne but I also make wine up in Heathcote (a town in central Victoria) during the harvest and then come back to the city to work for Swords for the rest of the year."
Brendan's wine Tellurian is available to buy through Swords.
Unfortunately, the business has had to stop their wine tastings during the lockdown, but this has given them the chance to stock a different range of products that appeal to their local customers, "tourists that come to the market really like wines from places like Tasmania and the Yarra Valley whereas the locals don't mind as much if it's from the Yarra Valley or any other valley, as long as it's local! That's been an exciting opportunity for us at the moment."
When talking shop favourites, Brendan says there's a few, "our best seller is our ten-dollar Brunswick Street blend which pays homage to our first shop back in the eighties. Our returnable bottles are always our most popular as well. There's also a whole range of new and interesting craft beers from all over Melbourne which people come in and try each week."
The answer to why he loves working at Swords came quickly. "It's such a beautiful old art-deco building that our [Queen Victoria Market] shop is in. It's all marble and brass. But it's the people that make it. We've had the same customers all the years we've been here. There's always a lot of tourists but it's the old locals that stop in every week that come to swap their bottles for a new one and have a chat, try some new things. It's a really nice place to work and you get the opportunity to try some interesting food, you can even shop for your dinner while you're at work," jokes Brendan, "it's just a really special place."
Better food starts today
Same day grocery delivery from the best local shops