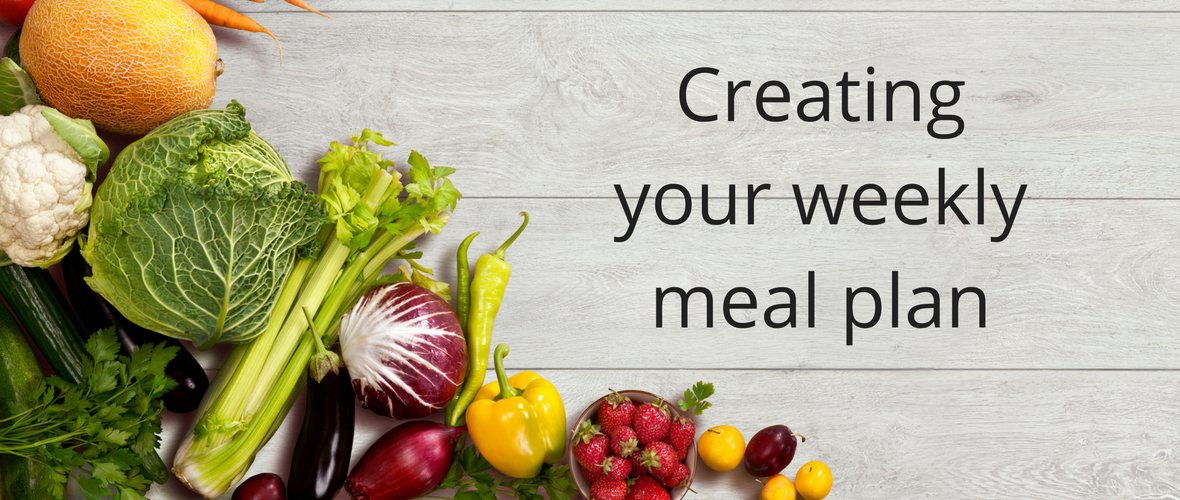 Weekly Meal Planning in 6 Steps
Meal planning is a really useful skill to have if you're looking to reduce your weekly grocery spend and stress over meal times. But it is often hard to know where to start! Here are my six tips to making your life a touch easier.
1. Make a list of your favourite recipes
Get together 15-20 recipes that you love, that you know your kids will eat and that have variety - you don't want to get bored half way through your week.

2. Work out your families schedule
Do you have a dinner set with the in-laws? After school sports leaving no time for cooking? Factor all of these into your planning to reduce your stress.

Once I've made my recipe lists and worked out my schedule, here is what my planning looks like:
3. Shopping my own kitchen
i. Clean out the fridge and take note of everything I want to use from my pantry.
ii. Take note of what you have left over from the week before; that stray carrot, half a bunch of silverbeet, anything perishable. These things will need to be used at the start of your following week.
iii. I try to base my meals around a few things I've already got - frozen chicken breasts, lentils, a packet of pasta.
iv. I don't spend hours on this - just a quick 15 minute scan. This step is really important because it will help you reduce your food waste AND your grocery bill (win win!)

4. Fill in my calendar
I've knocked together a calendar for your fridge! I like it landscape because I can write things into it, other than just my meals - kids activities, when friends are coming over, takeaway nights etc.

I plan for all three meals - this really helps keep me on track for work lunches and not skipping breakfast.

Breakfast can be as simple as overnight oats, toast, cereal and milk. Just write it down so that you know what you need / use whats in the pantry.
Lunch might be leftovers from the nights before dinner, or you might need to order extra groceries for these meals.

5. Create a grocery list for everything I need to buy

6. Order my ingredients for Sunday / Monday delivery
Depending on what area you're in, you will be able to get delivery for Sunday. If not, start your meal planning week from Monday dinner.

Ordering online means you're not tempted by the supermarket extras - no chocolate / chips / unhealthy treats make their way into your cart. It also free's up an extra hour or two on your weekend that would have been spent at a grocery store.

My last thoughts!
How do I choose my recipes?
I first choose recipes that use ingredients I already have from the week before - this helps me save money on my grocery bill and make sure I'm not wasting ingredients.
I then choose the rest of my recipes around how much time I have to cook! Quick meals usually include fish or chicken and I try to have one meat free meal a week. If you have a slow cooker, think about slow cooking meals in the morning for those busy weeknights.
I also choose a recipe that I double and freeze. This can be a pasta sauce, a shepherds pie, soup - anything that freezes well.
I try to use as many "cross-over" ingredients as possible. My "go-to" multiple use ingredients:
A whole chicken can be roasted for dinner, the rest shredded for sandwiches at lunchtime and the carcass made into a stock for a soup.
Potatoes - mashed, roasted, potato salad!
Green vegetables - I might steam them one night, use leftover steamed veg in a salad or cook into a soup. I try to never throw anything away and use every part of most vegetables.
Herbs - I don't buy a new herb for everything - I throw parsley into almost everything I eat.

And lastly;
Don't freak out when you cant get an ingredient, simply replace it with something else.