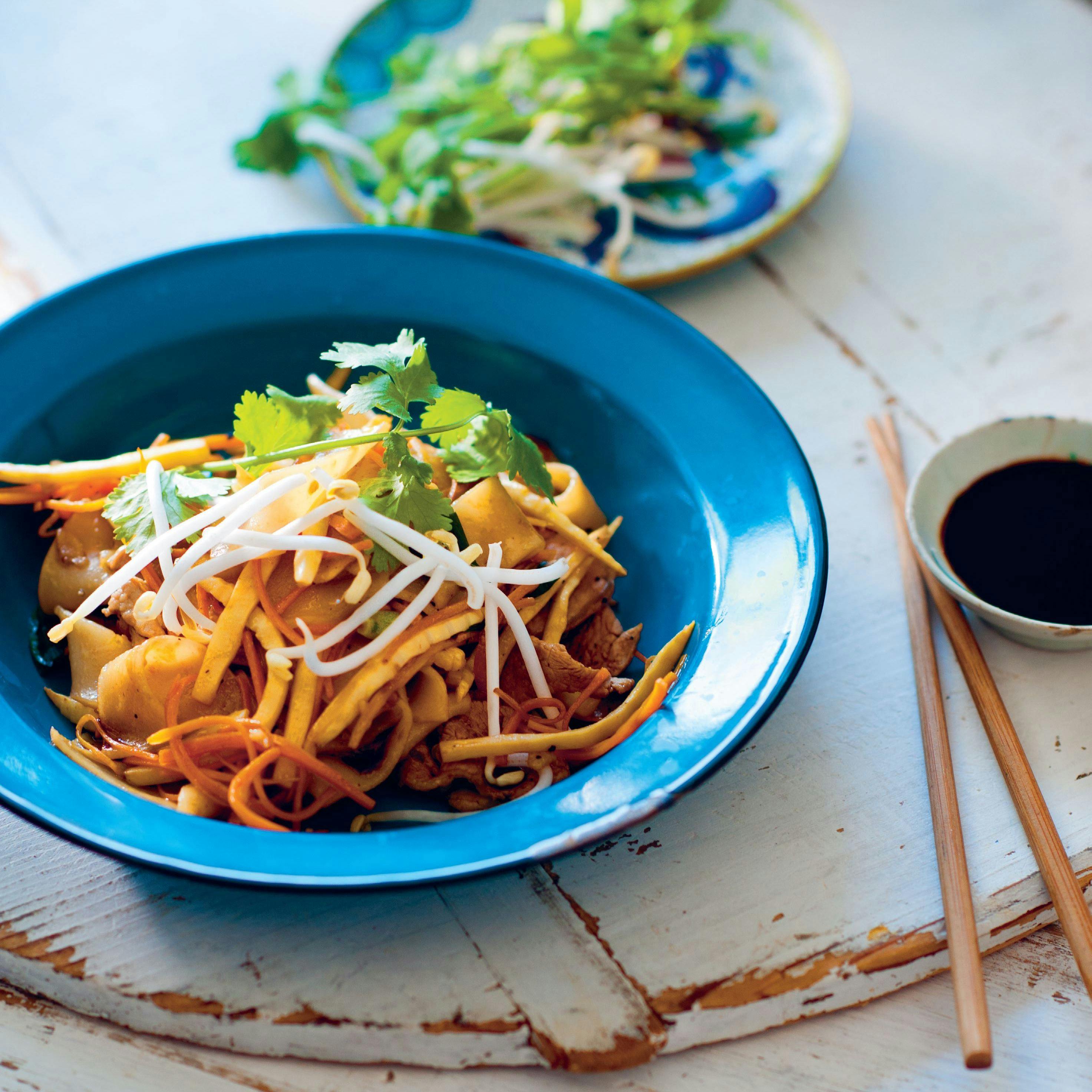 Rice noodles wok-tossed with bamboo and pork
From the Author, Luke Nguyen:
"I discovered a small village in Bac Ha that grew a variety of red rice. When harvested and dried, the rice grains had a lovely purple colour — something I'd never seen before. This particular rice is also believed to have many medicinal qualities. So I bought some purple rice noodles and wok-tossed them with bamboo shoots and pork. The colour was so vibrant! Unfortunately, you can't find purple rice noodles outside Bac Ha, so just use regular rice noodles instead. But remember, always use room-temperature fresh soft noodles, never ones that have come straight out of a fridge, as they will break during cooking."
This recipe is from Luke Nguyen's book, The Food of Vietnam, published by Hardie Grant Books and available at cooked.com.au.
Photography (C) Alan Benson.
Ingredients
3 tablespoons vegetable oil
1 garlic clove, diced
200g lean pork, thinly sliced
100g cooked bamboo shoots
300g fresh thick rice noodles, at room temperature
1 carrot, julienned
1 spring onion, cut into 4 cm lengths
1 teaspoon sugar
2 teaspoons white vinegar
2 teaspoons oyster sauce
1 teaspoon light soy sauce
2 teaspoons kecap manis
1/2 teaspoon freshly ground black pepper
bean sprouts, to garnish
coriander sprigs, to garnish
Method
For the cooking method, please visit cooked.com.au.
Sign-up to order these ingredients as a meal kit.
Better food starts today
Same day grocery delivery from the best local shops