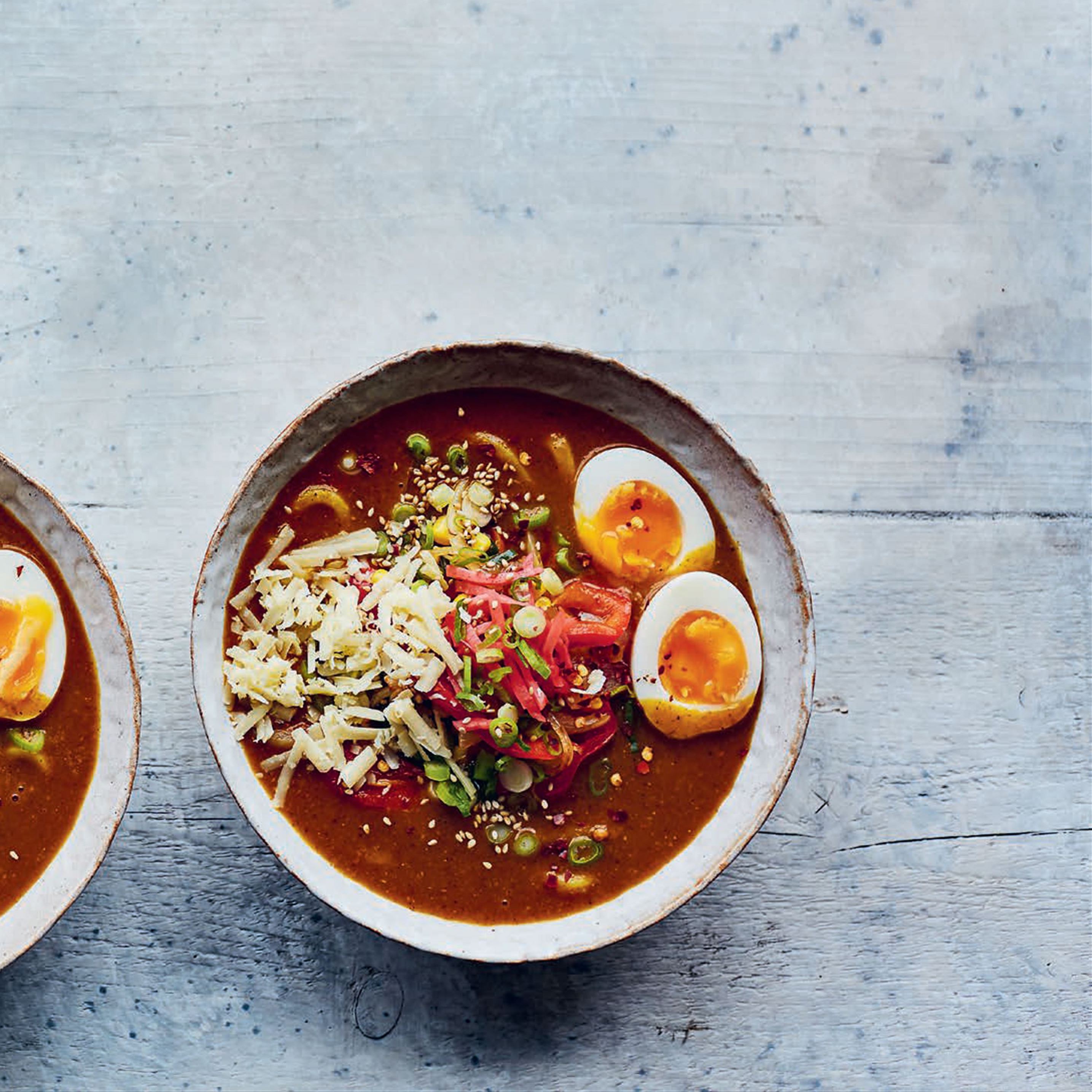 Japanese Curry and Udon Noodles
"Japanese curry and udon: a comfort food power couple. The addition of curry to hot udon doubles down on its warming, satisfying qualities – I love all kinds of udon, but this may be my favourite." ~Tim Anderson
This recipe is from JapanEasy by Tim Anderson, published by Hardie Grant Books and available at cooked.com.au.
Photography (c) Alan Benson.
Ingredients
2 tablespoons vegetable oil
1 large onion, thinly sliced
1 green chilli, very finely chopped
2 garlic cloves, very finely chopped
1 red (bell) pepper, diced
60g butter
6 tablespoons plain flour
45g madras curry powder, see note
2 tablespoons garam masala
1.2 litres chicken or beef stock, dashi, or any combination of the three
4 tablespoons soy sauce, more to taste
4 tablespoons ketchup or Tonkatsu sauce
salt
1 sweetcorn cob or 150g tinned sweetcorn
4 portions udon noodles
2 spring onions, finely sliced
4 eggs, poached or soft-boiled
pinch dried chilli flakes, (optional)
40-50g red pickled ginger, (optional)
50g cheddar cheese, grated, (optional – but it's DELICIOUS)
toasted sesame seeds
Method
For the full cooking method, please visit cooked.com.au.
Sign-up here to order these meal ingredients.
Better food starts today
Same day grocery delivery from the best local shops