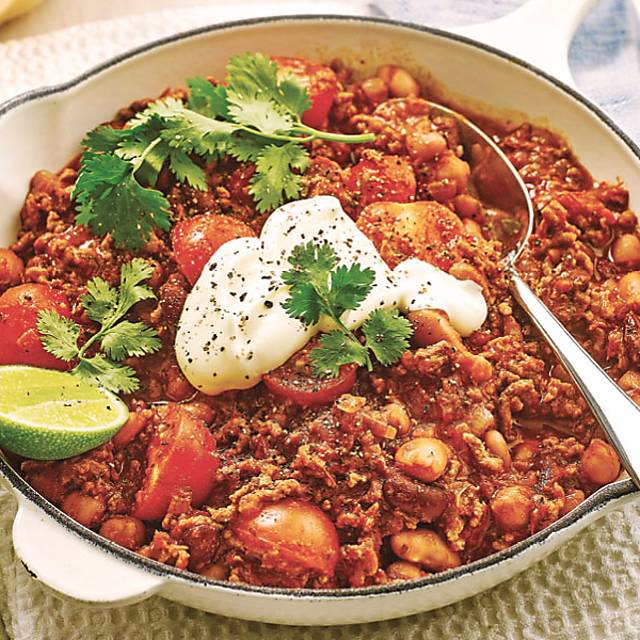 Chilli Con Carne with Greek Yoghurt
45 mins active prep time, 4 servings
Ingredients
1 red onion, finely chopped
1 yellow capsicum, seeded, chopped
2 garlic cloves, chopped
1 1/2 cups passata
250g cherry tomatoes, halved
2 tbsp fresh coriander, plus extra to serve
1/4 cup greek yoghurt
1 tbsp lime juice
four beans mix, rinsed and drained
240g white medium grain rice
1/2 cup beef stock
2 tsp ground cumin
2 tsp ground paprika
1 pinch dried chilli flakes
Method
1. Cook rice: Cook the required amount of rice as per the instructions on the pack
2. Prepare the recipe base: Meanwhile in a medium sized frying pan bring 1 tbsp of beef stock to the boil on high. Sauté the onion, capsicum and garlic for 2-3 minutes. Mix the spices and cook for a further 1 minute until fragrant.
3. Cook mince then add remaining ingredients: Add the beef mince and brown for 3-4 minutes, breaking up any lumps. Stir in the passata, remaining stock and the beans. Simmer uncovered for 10 minutes. Add the cherry tomatoes and cook for a further 2 minutes. Stir through the coriander and lime juice.
4. Serve: Serve the Chilli Con Carne on a bed of rice with extra coriander leaves. Accompany with yoghurt and lime wedges.
Better food starts today
Same day grocery delivery from the best local shops