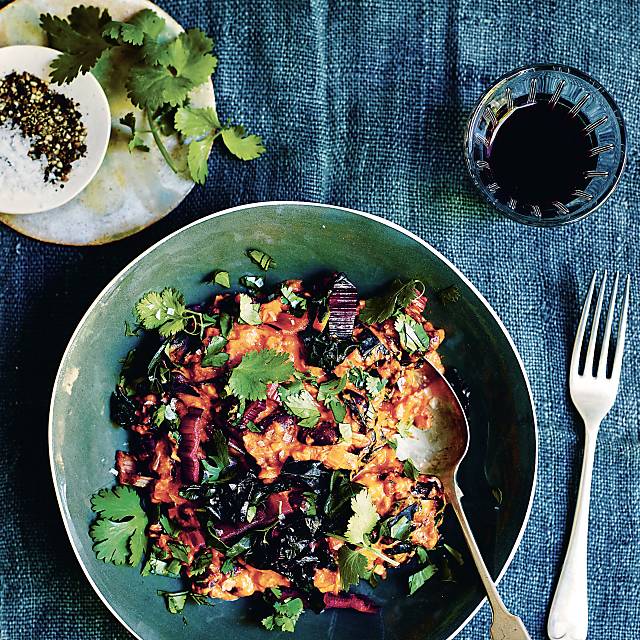 Chard, Red Bean, and Peanut Stew with Coriander & Chilli
15 mins active prep time, 4 servings
This is soul food in a bowl. It's creamy and rich with a subtle heat. Chard adds a pretty array of colours to the stew, but if you don't have any available, you can substitute it for Swiss chard or spring greens. Don't leave out the coriander topping at the end, as this lifts the stew with its fresh flavour. This is one of my favourite foods to eat on a cold, autumn day, while wearing a cosy, knitted jumper.
This recipe is from '15 minute vegan' by Katy Beskow, published by Hardie Grant Books, $29.99.
Photography © Dan Jones
Note: This meal includes a few pantry item spices. If you don't have them at home, add them to your cart from your favourite spice store online.
Ingredients
1 tablespoon sunflower oil
pinch sea salt
1 teaspoon dried chilli flakes
1 teaspoon ground cumin
1/2 teaspoon ground ginger
1 tablespoon soy sauce
100g Silverbeet (swiss chard), roughly chopped
1 onion, roughly chopped
3 garlic cloves, crushed
400g can chopped tomatoes
4 rounded tablespoons crunchy peanut butter
240g can red kidney beans, rinsed and drained
1 tablespoon light soy sauce
generous handful fresh coriander, roughly chopped
See full recipe at cooked.com.au.
Better food starts today
Same day grocery delivery from the best local shops