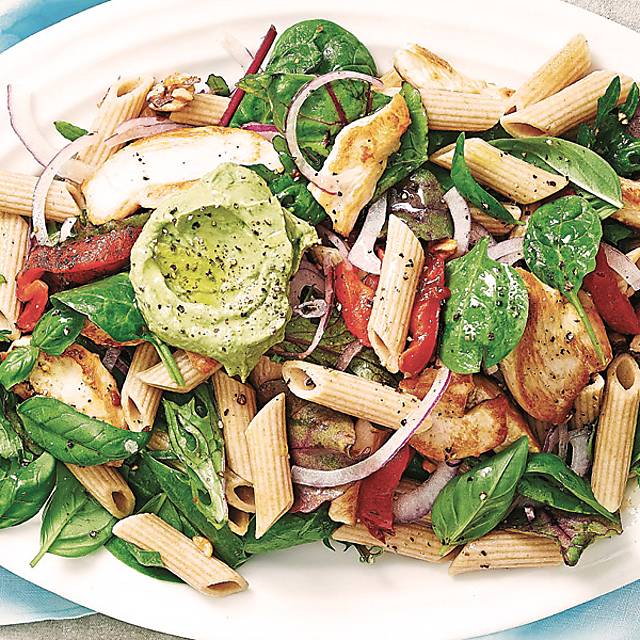 Chicken & Avocado Pesto Pasta with Basil & Lemon
30 mins active prep time, 4 servings
Ingredients & quantities
750g chicken breast, thinly sliced
380g penne pasta
100g mixed salad leaves
1 red onion, thinly sliced
1 red capsicum, thinly sliced
Basil leaves, to serve
1 avocado
1/4 cup walnuts
1/2 cup basil leaves
1/2 garlic clove
1 tbsp lemon juice
Method
1. Cook the pasta: In a large saucepan of boiling water, cook the pasta for 10-15 minutes until tender. Drain. Return to pan. Keep warm.
2. Cook chicken: Meanwhile, in a large frying pan, heat the olive oil on high. Cook chicken for a few minutes on each side, until cooked through.
3. Chargrill capsicum: Heat a chargrill pan on high. Chargrill the capsicum until soft and you have good chargrill marks.
4. Make the pesto: To make the avocado pesto, combine all the pesto ingredients in a small food processor and combine until smooth. Add a little water to think if required.
5. Toss all ingredients: Toss chicken, mixed salad leaves, capsicum, onion and pesto through cooked pasta to combine.
6. Serve: Spoon into bowls to serve.
Better food starts today
Same day grocery delivery from the best local shops