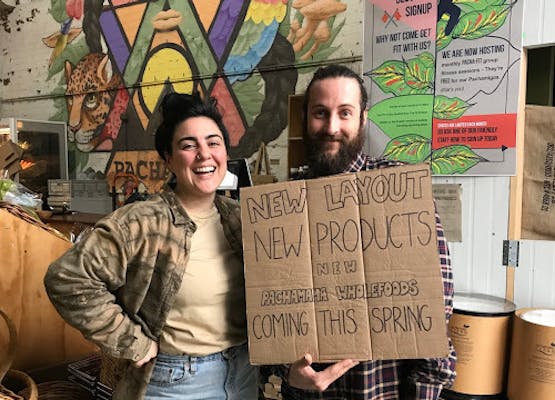 Pachamama, the Brunswick wholefoods store & kitchen that's changing the way the community thinks about food
The team at Pachamama provides healthy fast food, sustainable & ethical groceries, zero-waste products, and conscious entertainment.
Motivated by the belief that the current food system is broken, Christopher and Danielle are building a global franchise centered around sustainable food communities with positive environmental impact. "My vision was a 24-hour health food café and conscious entertainment hub, like McDonald's but with a healthy sustainable menu because it's hard to access healthy food later in the night. Danielle always wanted an ethical grocery store where all the brands and products stocked had already been researched and were based on a core value set. One day we started shopping at Pachamama, found out it was for sale and the vision came alive into what you see now," says Christopher.
A civil engineer by trade, solving problems is the core of what Christopher does. Paired with the couple's deep passion for food waste and the environment, Christopher and Danielle are ultimately working towards creating a sustainable food system for the community and eventually expanding the franchise to a national level. "I see a lot of systemic problems that need to be solved in the food, waste, and energy sectors. So, what drives me is innovation. I want to innovate the food industry top to bottom basically, so we can create a more sustainable system. At the end of the day, there are only four things humans need to survive: food, water, air, and shelter. If Pachamama can take care of food by creating a sustainable hyperlocal food system, then we are empowering the community towards a more resilient future for generations to come."
For the grocery store, this comes down to where the products they stock are sourced, how they process it, and the suppliers they work with. "We have buying principles, they're based around packaging, ethics of the suppliers, what's in the product - is it organic? locality, and sustainability - what are the practices required to produce that product?" explains Christopher, "We want to create as close to a zero-waste store as possible. That word is thrown around a lot these days. When you break down the phrase - zero, which it's impossible to have no waste at all, and waste - what is waste? It's actually a resource if you're using the right kind of inputs. So, we're trying to create a minimal waste store when it comes to packaging."
Currently, Pachamama processes all the organic waste from both the store and cafe at the local community garden in Brunswick, SEEDs Communal Garden. This valuable waste resource is processed and used to grow organic produce which finds its way back onto the shelves for the community to buy. The store also has a strict waste system to separate soft plastics, organic waste, recycling, paper, and general waste.
The business has dedicated itself to working with trusted suppliers and stocking brands of the highest quality. For a product to be stocked, it must pass at least three out of the five aforementioned buying principles, and Christopher and Danielle are constantly working to make this even better, aiming for four out of five in the future. "Currently the food system and supply chain make it difficult to adhere to all our buying principles. Researching all the products and suppliers also takes a lot of time. At the moment, we have to balance our principles and make sure the customers are happy with our product offering."
When talking values, there is one that stands out the most, "It's all well and good to do all of this stuff, but what really drives it, is bringing the community together to create change, to make them feel part of something that's bigger than themselves. We want to empower the community to create their own sustainable future."
If Pachamama is speaking your language but you're not sure where to start, Christopher and Danielle recommend trying the Warbotanicals 'Face the Day' Cream, Dindi Naturals Blue Gum Soap, Unpackaged Nutritional Yeast, or the Pachamama Organics Eggs.
Better food starts today
Same day grocery delivery from the best local shops