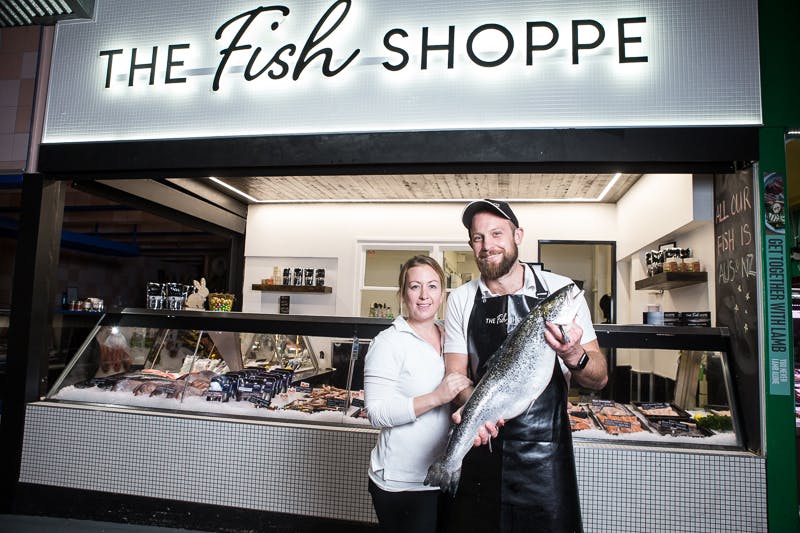 Interview with The Fish Shoppe, South Melbourne Market's Newest Fishmonger
How did you get started?
We both share a passion for the seafood industry in NZ and Australia. Josh moved from New Zealand to run Sanford's wholesale market, and Renee is the Executive Officer of the Commonwealth Fisheries Association looking after the interests of those fishing in Commonwealth waters.
We wanted to open a shop showcasing the wonderful seafood products from both countries, focusing on quality and the story behind the seafood. Nothing to hide, knowing where our fish comes from.
Where do you source most of your products from?

100% of our seafood is sourced from Australian and New Zealand waters.
What makes The Fish Shoppe unique?
We know where all our fish comes from, right down to the port where they were unloaded. We are committed to sourcing only Australian and NZ product and telling our customers where it's from.
We are very careful with our selection of products and we care for everything that comes through our shop. Have a look at our whole fish display, it's brilliant.
What's your favourite meal?
Seafood should be kept as simple as possible. Josh's favourite is pan-fried John Dory fillets, cooked in Ghee with only a little bit of lemon juice with salt & pepper.
Otherwise, Blue Mackerel grilled on the BBQ - a rich oily fish that is so good for you. 

Tell us something that a few people know they could buy from you?

Blue Mackerel, available as a whole fish or fillets. They are an excellent source of protein, Omega-3 fatty acids and other important vitamins and minerals.
What's the best seasonal produce to buy from The Fish Shoppe in winter?

Blue Eye, Ling, Hapuka and Barramundi - All wild-caught fish and great options for curries, chowders or steaming with Asian vegetables - great for the colder weather.
Any other interesting info you'd like to share?
The thing that we enjoy the most at The Fish Shoppe is helping customers try new fish and step out of their comfort zone. We are always too happy to recommend something, which is easy for us, as we love seafood, and only stock fish that we would eat ourselves.
You can order online from The Fish Shoppe right here on YourGrocer.
Better food starts today
Same day grocery delivery from the best local shops