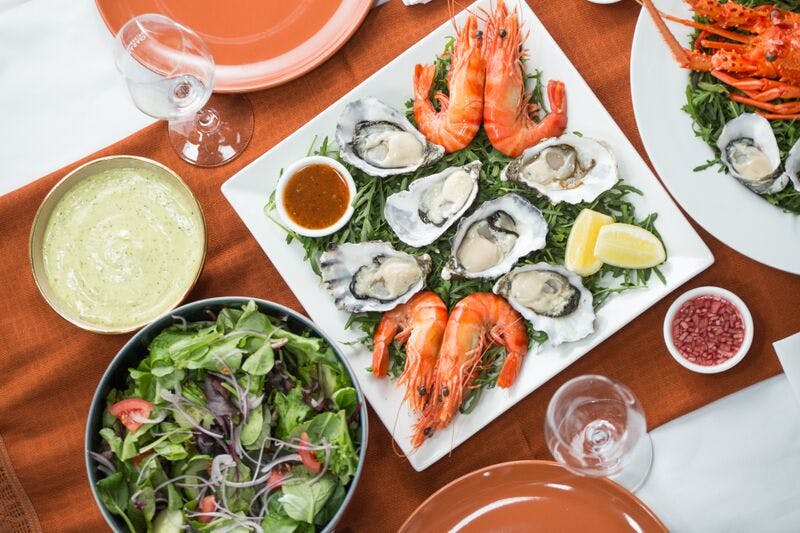 Creamy Garlic Prawn with Steamed Rice and Wombok Salad
For the sauce
Ingredients:
300 ml cream
5 cloves of garlic. chopped
1/2 brown onion diced
50 ml white wine
1 pinch of ground white pepper
30g grated parmesan cheese
Method:
Sautee garlic and onion in a dash of oil over medium heat until translucent.
Add white wine and cook for 3 minutes
Add the cream, reduce by half.
Add parmesan, white pepper and season to taste.
For the salad
Ingredients:
½ small wombok
½ bunch of coriander
½ bunch of Vietnamese mint
½ bunch of thai basil
1 long red chilli
¼ red onion
50 g crushed toasted peanut
Method:  
Thinly slice wombok, red onion and red chilli and place in a bowl.
Add picked herbs, peanut toss for an even mix.
To finish the dish
Ingredients:
5 king prawn or 10 prawn cutlet
2 cloves of garlic, chopped
30 ml of coconut cream
Method:
Place a non-stick pan on to high heat, add a dash of oil then add the prawn.
Once the prawns are golden on one side, turn them over then add garlic.
When the garlic start to caramelise, turn down the heat to medium then add the creamy garlic sauce and coconut cream.
Leave to simmer for 10 second then remove from the heat.
To serve:
Place approximately 150 g of steamed rice in a medium bowl, place the prawn on top of the rice, wombok salad on the side and pour the sauce all over.
Credit to Richmond Oysters for the recipe.
Better food starts today
Same day grocery delivery from the best local shops