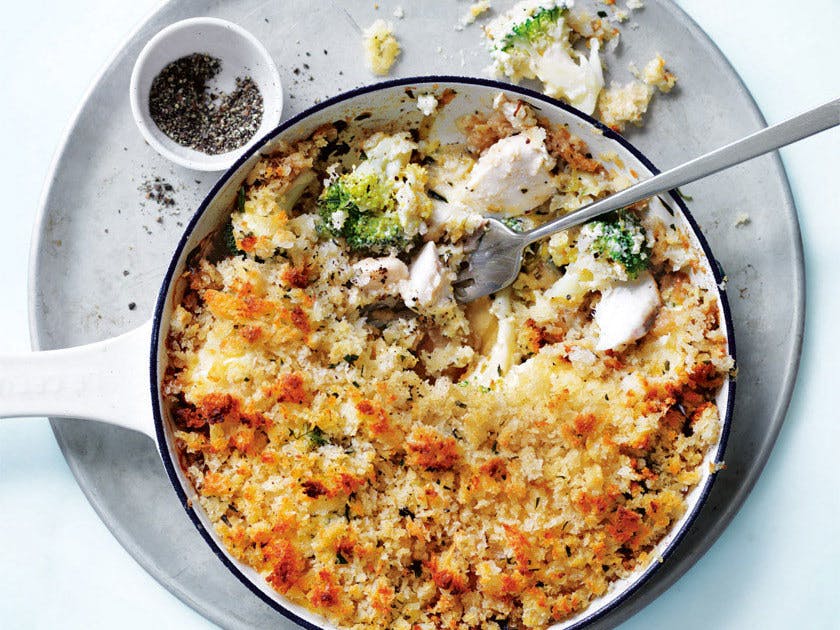 Caramelised Leek and Broccoli Fish Pie
Ingredients:
200g Breadcrumbs
5g Tarragon Leaves, Roughly Chopped
150g Unsalted Butter, melted
2 Leeks (white part only), Thinly Sliced
2 Garlic Cloves, Crushed
300g Broccoli, Cut into Small Florets
800g Firm White Fish (cod, ling, haddock, basa, snapper), Cut into 3cm Pieces
1 Tablespoon of Plain Flour
250g Tub of Sour Cream
2 Tablespoons of Dijon Mustard
125ml of Water
Method:
Preheat oven to 200°C (400°F). 
Place the breadcrumbs, half the tarragon, half the butter, salt and pepper in a large bowl and mix to combine. 
Place on a large oven tray and cook for 10 minutes or until golden.
While the breadcrumbs are cooking, heat the remaining butter in a large ovenproof pan over high heat. Add the leek, garlic and broccoli and cook, covered, for 5 minutes or until softened. 
Place the fish, flour, salt and pepper in a large bowl and gently toss to coat. 
Add the fish mixture, remaining tarragon, sour cream, mustard and water to the pan and stir to combine. Top with the breadcrumbs and cook in the oven for a further 10 minutes or until golden brown and cooked through. 
Sprinkle with pepper to serve. Serves 4.
Recipe and Image Credit goes to Donna Hay.
Better food starts today
Same day grocery delivery from the best local shops