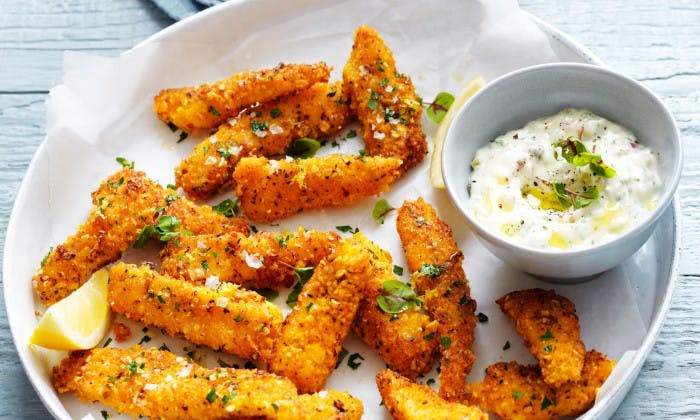 Cooking with Kids: Oven Baked Fish Fingers and Chips
Ingredients:
800g white fish such as flathead, ling or whiting
250g breadcrumbs
2 eggs
130g flour
60ml milk
1 teaspoon salt
4 large potatoes
Method:
Parent Prep: Preheat oven to 200 degrees Celcius.
Parent Prep: Cut the potatoes into wedges or chips. Toss with 2 tablespoons of olive oil and a teaspoon of salt. Spread out on a greased baking tray and put in the hot oven.
Parent Prep: Cut the fish into desired 'finger' shapes.
Children's Involvement: Prepare 3 bowls: one with flour and ½ a teaspoon of salt and some pepper, one with 2 eggs beaten with milk, and one with breadcrumbs with ½ teaspoon of salt and cracked pepper.
Children's Involvement: Dip each piece of fish first in flour, making sure it is completely coated and dusting off any excess flour. Dip the fish in the egg mixture next, allowing excess to drop off. Finally dip the fish in the breadcrumbs and lay on a greased baking tray.
Parent Prep: When the potatoes have been cooking for 30 minutes, place the tray with the fish fingers in next to the tray of potato chips.
Parent Prep: Cook for a further 10-15 minutes until the fish is cooked through and serve.
Recipe courtesy of Mamabake.com
Image courtesy of Myfoodbook.com
Better food starts today
Same day grocery delivery from the best local shops