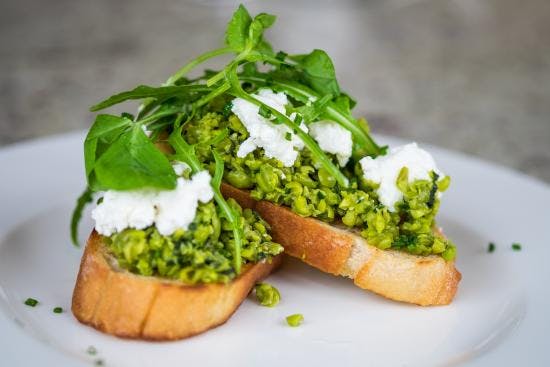 Bruschetta with Pea and Ricotta
Ingredients:
1 Baguette, thin diagonal slices
150g Peas
1 small handful of chopped mint
1 Garlic Clove, chopped
1 Tbsp Lemon juice
4 Tbsp Olive oil
225g Ricotta Cheese
Optional Extras:
Handful of Pine Nuts
1 Spring Onion, Chopped Finely
Method:
Heat the oven to 220C. 
Line a baking tray with baking paper and place the baguette slices on to the tray then smear the bread with olive oil.
Bake for 3-4 minutes and then turn the bread slices over and cook for another 2-3 minutes until golden. (Pay close attention to the bread as it toasts quickly and can burn) 
Place the peas, mint, garlic and lemon juice into a small-bowl food processor and use the pulse button to lightly mix, stopping before it turns to mush.
Add in the olive oil and pulse to further combine. Season with sea salt flakes and freshly ground black pepper and taste to check you have enough seasoning. 
Tip your mixture into a bowl and stir in the ricotta with a spoon to combine or dollop the mixture on each slice of bread then add ricotta. Drizzle with a good olive oil. 
To finish, you can toast some pine nuts in a dry frying pan and sprinkle these on top at the end for some crunch and/or top the bruschetta with spring onions and extra mint for garnish.
Recipe credit goes to Vanessa Baxter, found on Bite.
Photo credit goes to Cafe Grand
Better food starts today
Same day grocery delivery from the best local shops