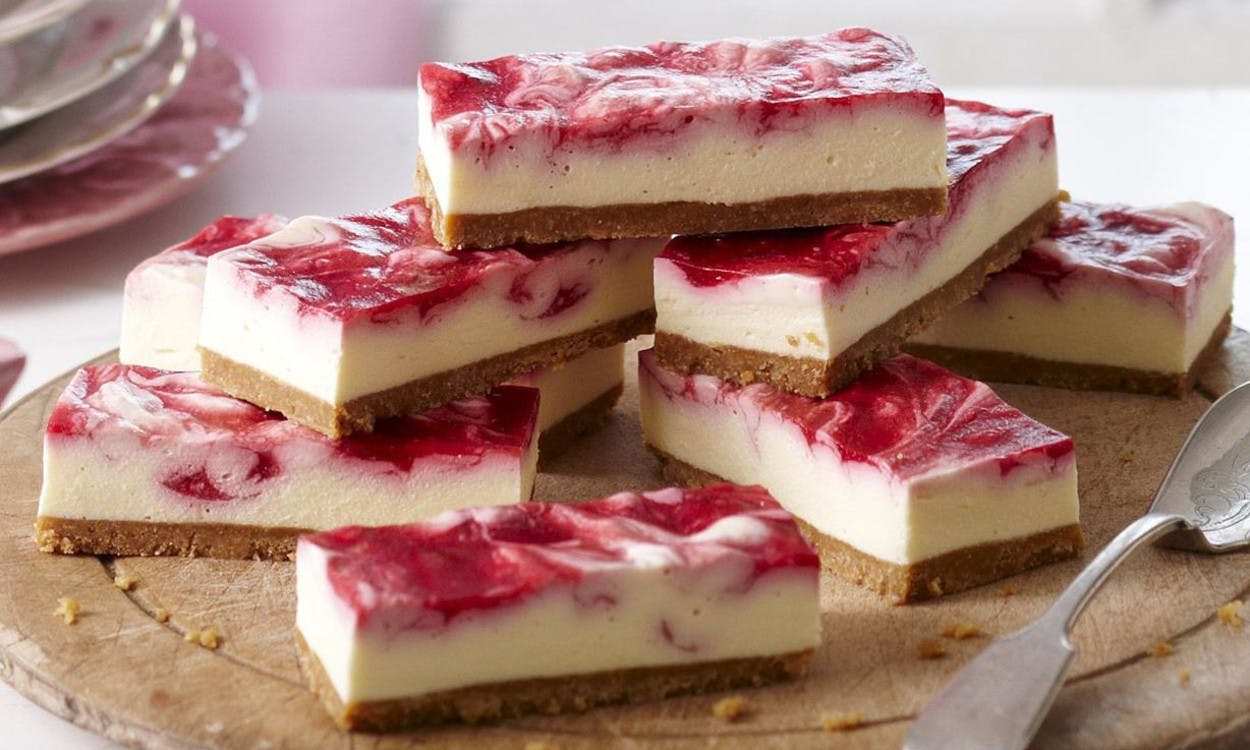 White Chocolate and Raspberry Swirl Cheesecake Slices
Ingredients:
Cheesecake
250 g plain sweet biscuits
155 g butter, melted
3 tsp gelatine
2 tbsp boiling water
375 g cream cheese, softened
2 tbsp caster sugar
250ml thickened cream
1 tsp vanilla extract
200 g white chocolate, melted & cooled
Raspberry Topping
225g frozen raspberries, thawed
1 tbsp icing sugar
1 tsp gelatine
1 tbsp boiling water
Method:
Grease a rectangular pan; lining the base and long sides with baking paper, extending paper 5cm over sides.
Process biscuits until fine. Add butter; process until combined.
Press mixture over base of pan. Refrigerate 30 minutes.
For the raspberry topping; process raspberries until smooth; strain puree into small bowl, discard seeds then stir sifted icing sugar into puree.
Sprinkle gelatine over the water in small heatproof jug; stand jug in small saucepan of simmering water. Stir until gelatine dissolves.
Cool for 5 minutes then stir mixture through raspberry puree.
Beat cream cheese and sugar in medium bowl with electric mixer until smooth. Beat in cream, extract and chocolate until combined. Stir in gelatine mixture. Pour over biscuit base.
Spoon raspberry topping over cream cheese mixture; swirl with a skewer. Refrigerate 3 hours or overnight before cutting.
Store slice in an airtight container in the fridge for up to 4 days.
Recipe & Image Courtesy of Women's Weekly, found on Food To Love.
Better food starts today
Same day grocery delivery from the best local shops