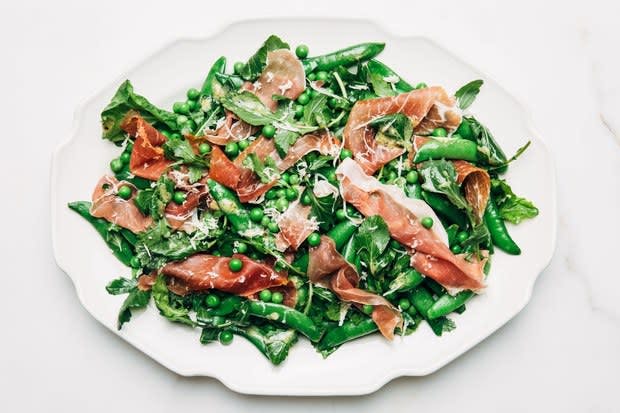 Pea and Prosciutto Salad
Ingredients:
1 tablespoon fresh lemon juice
1/2 teaspoon Dijon mustard
3 tablespoons olive oil
Salt, freshly ground pepper
190g shelled fresh green peas (or frozen peas, thawed)
300g sugar snap peas, trimmed
115g rocket, tough stems removed
120g prosciutto, thinly sliced
Knob of fresh horseradish, peeled (for serving)
Method:
Whisk lemon juice and mustard in a large bowl.
Gradually add oil, whisking constantly until emulsified; season vinaigrette with salt and pepper.
Working in batches, cook green peas and sugar snap peas in a large pot of boiling salted water until crisp-tender, about 2 minutes per batch.
Immediately transfer to a bowl of ice water and swoosh peas around until cold to set their colour and disrupt the cooking. Drain and pat dry with paper towels.
Add green peas, sugar snap peas, and rocket to bowl with vinaigrette and toss until well coated with dressing; season with salt and pepper.
Arrange salad on a platter and top with prosciutto. Finely grate horseradish over salad to your liking.
Recipe courtesy of Epicurious.
Better food starts today
Same day grocery delivery from the best local shops