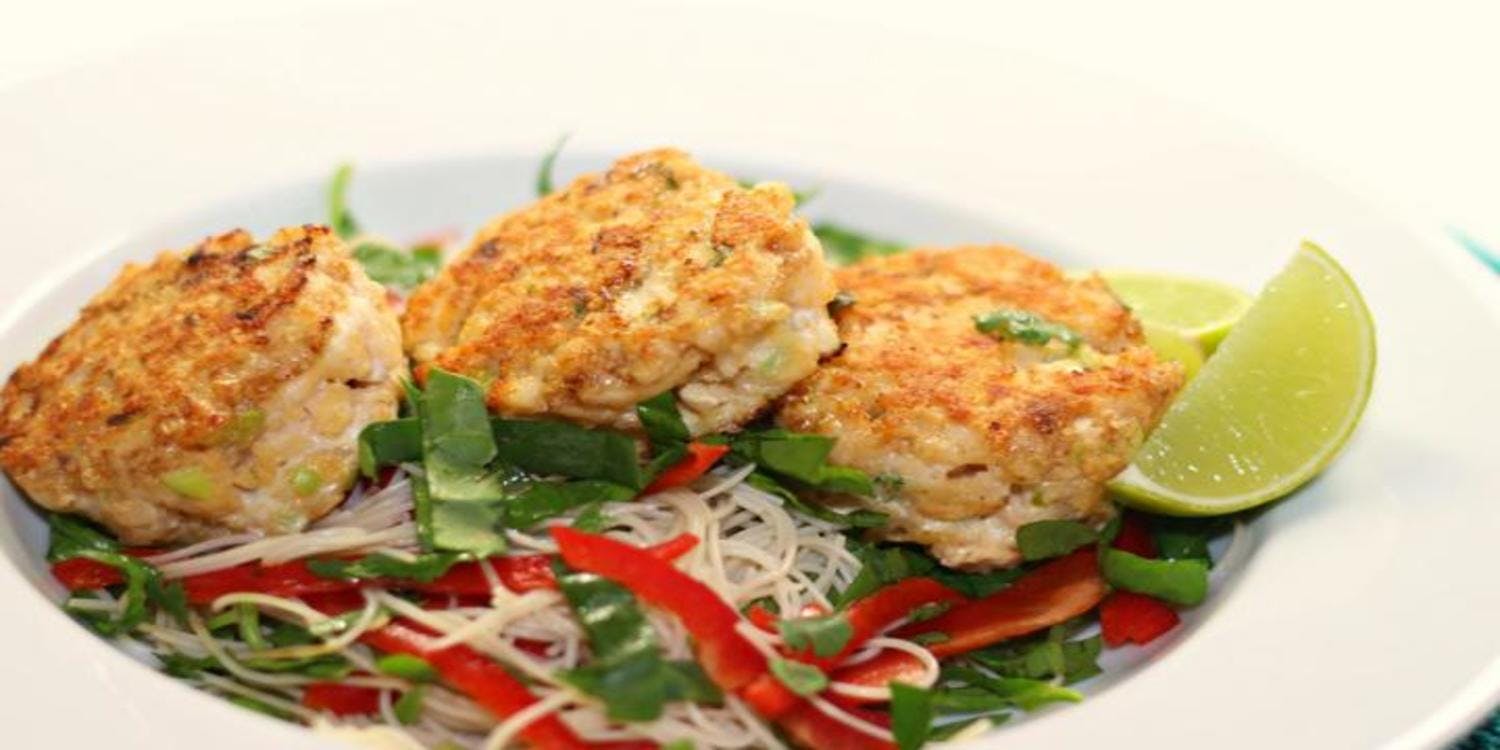 Thai Style Fishcakes
Ingredients:
For the fishcakes:
600g firm white fish (such as basa or snapper), finely sliced
1 garlic clove, minced
2 spring onions, chopped
2 tsp lime zest (about 1 lime's worth)
2 tsp freshly grated ginger
2 tsp red curry paste
1 egg
3 tbsp wholemeal flour
oil spray
For the salad and dressing:
2 cups cooked rice vermicelli noodles (roughly 1 1/2 little nests)
1 red capsicum, finely sliced
1/4 cup chopped coriander
1/4 cup mint
1 cup chopped spinach
1 tbsp sesame oil
1 tbsp fish sauce
2 tbsp lime juice
1 tbsp sugar
Method:
Place fish, garlic, spring onions, lime zest, ginger, red curry paste and egg into a food processor and pulse until combined. (Only pulse the ingredients until the fish is finely chopped but with some texture still- don't let it become a paste)
Stir through flour and season with a little salt.
Shape mixture into fishcakes of desired size.
Heat a non-stick frypan to medium high, spray lightly with oil and place portions of fish mixture into the pan.
Cook fishcakes in batches for approx 5 minutes per side or until cooked through.
While cakes are cooking, toss together cooked rice vermicelli, capsicum, coriander, mint and spinach.
Combine the sesame oil, fish sauce, lime juice and sugar in a jar, then shake until thoroughly mixed and pour over the noodle salad.
Divide salad among plates or bowls and top with cooked fishcakes to serve.
Recipe courtesy of Jay Rogers at Kidspot.
Better food starts today
Same day grocery delivery from the best local shops