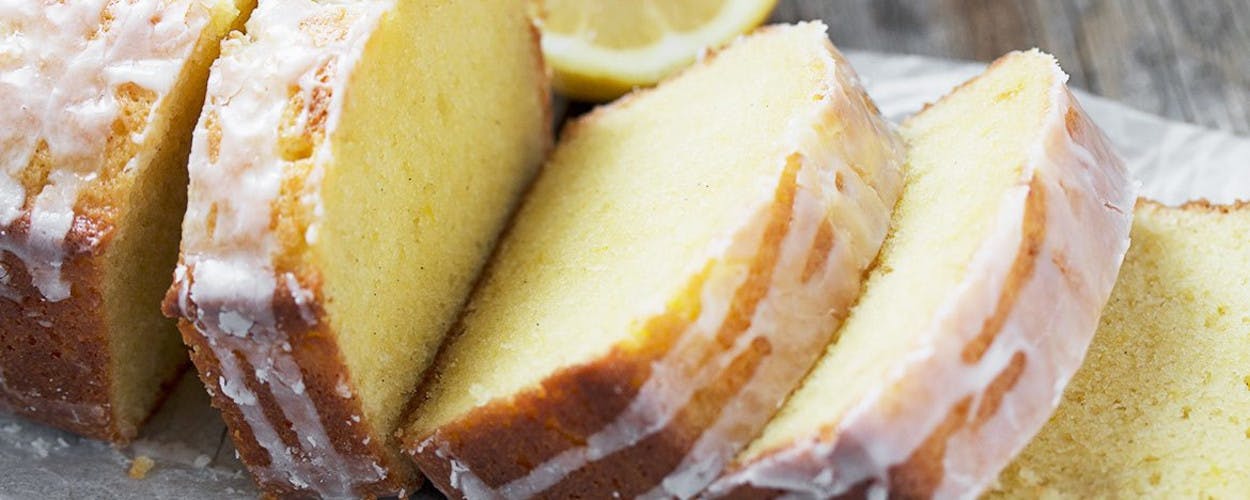 Glazed Lemon Pound Cake
Ingredients
225g of unsalted butter, softened, plus more for pan
360g plain flour, plus more for pan
180g low-fat buttermilk
Zest of 2 lemons, finely grated
8 tablespoons of lemon juice (about 2 lemons)
1 1/2 teaspoons salt
1/2 teaspoon baking powder
1/2 teaspoon baking soda
250g caster sugar
5 large eggs
For the Glaze:
250g confectioners' sugar
3 to 4 tablespoons fresh lemon juice
Method:
Preheat oven to 180 degrees celsius, with rack in lowest position.
Butter and flour two small loaf pans.
In a small bowl, combine buttermilk with lemon zest and juice.
In a medium bowl, whisk together flour, salt, baking powder, and baking soda.
In another bowl, cream butter and sugar with an electric mixer until light and fluffy. Add eggs, one at a time, beating well after each addition.
With mixer on low, add flour mixture in three parts alternately with the buttermilk mixture in two, beginning and ending with flour; beat just until smooth (do not overmix).
Divide batter evenly between pans. Bake until a toothpick comes out clean when inserted (approx 50 to 60 minutes). Cool 15 minutes in pan.
Turn out cakes onto a rack to cool completely.
For the glaze, place confectioners' sugar in a medium bowl and stir in lemon juice (glaze should be thick, yet pourable). Add more sugar or lemon juice, as necessary, to achieve desired consistency.
Pour glaze over cakes, letting it run down the sides; let dry, about 30 minutes.
Recipe courtesy of Marthastewart.com
Image courtesy of Jennifer at Seasons and Suppers
Better food starts today
Same day grocery delivery from the best local shops