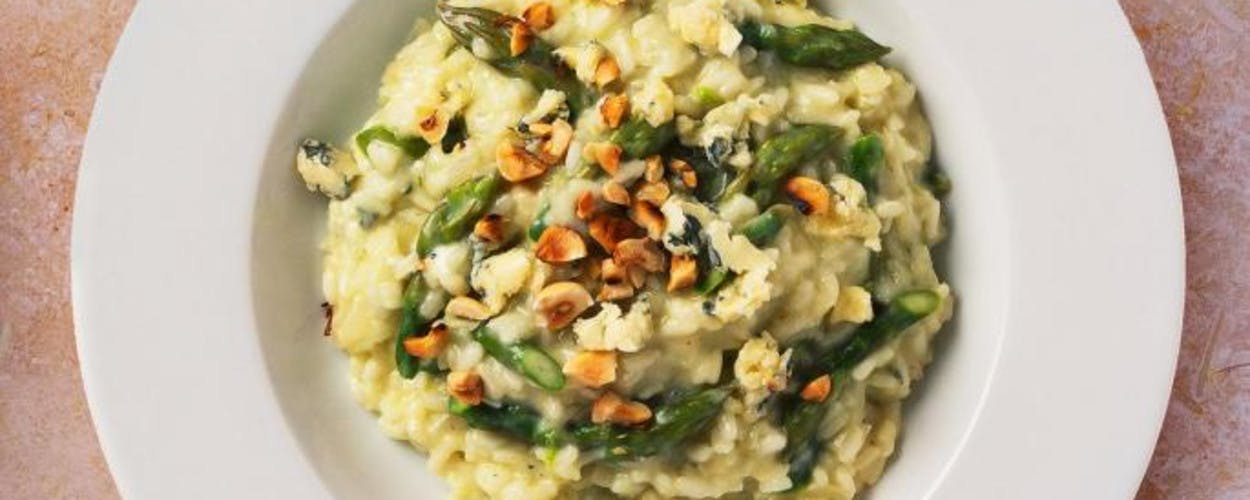 Asparagus, Gorgonzola and Hazelnut Risotto
Ingredients:
½ medium onion, chopped
75g butter
160g carnaroli rice
120ml white wine
400ml water
350g fine asparagus, trimmed and cut into 1-2cm strips
150g gorgonzola
60g hazelnuts, toasted and coarsely chopped
Salt
(This recipe serves 2 people)
Method:
Fry the onion in 50g butter with a pinch of salt over a medium heat for 10 minutes until tender.
Add the rice, fry for 2 minutes, then pour the wine over the rice and simmer until absorbed.
Add the water in small amounts at a time, waiting for the majority of the water to br absorbed between additions. Taste for seasoning all the time.
After approx 10 minutes, add the asparagus.
When the rice is still a little to firm for your preference, crumble in three-quarters of the gorgonzola (using or losing the rind as you like) and the remaining 25g butter. Stir until you are satisfied. Serve with the hazelnuts and the remaining gorgonzola scattered on top.
Recipe courtesy of Bocca by Jacob Kenedy (Bloomsbury)
Photo Courtesy of Romas Foord
Better food starts today
Same day grocery delivery from the best local shops