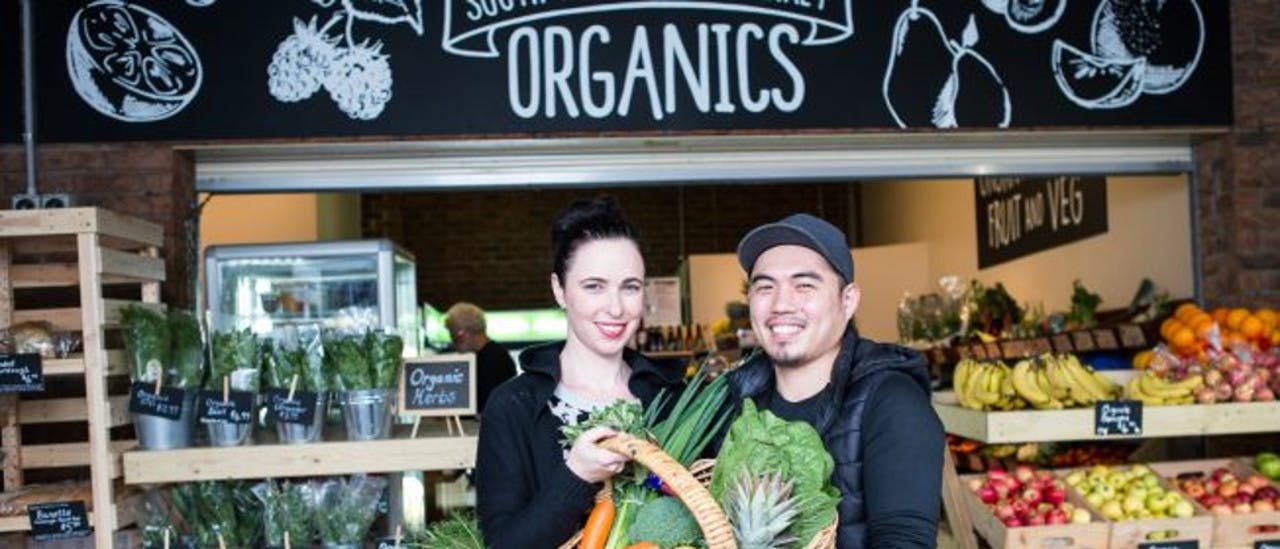 Q & A with South Melbourne Market Organics
We caught up with the guys from South Melbourne Market Organics and asked them a thing or two about their thriving organics business. If you can't get to their store at the South Melbourne Market, you can order online and have it home delivered.
How did you get started?
South Melbourne Market Organics was started over 20 years ago before the real rise of the organic movement in Australia. The range and offering of the shop has grown in conjunction with the tremendous growth in the market of organic products now available. The current owners Daniel and Caroline have had the stall for 2 years.
Where do you source most of your products/produce from?
All of our fresh produce is certified organic and sourced in Australia, with some coming through direct relationships with farmers and some through the wholesale market. We have an interest in keeping our carbon footprint to a minimum so try to source as close to home as possible for our products. The additional benefit of this, is that the close the farm the fresher our produce is when it hits our shelves for the customer. Approximately 95% of our dry grocery product is organic and is from a range of sources in Australia and from overseas.
What makes you different from other similar stores?
Our store exclusively sells certified organic fresh produce so you can be sure that when you buy your fruit and veg with us its always organic.
What's your favourite meal / recipe?
Our favourite recipes change with the seasons instore. Buying organic means you have to be adaptable as availability will be restricted to what is currently in season. The benefit of this is that the product you do buy will be at its natural seasonal best, and you can get creative with your cooking with these beautiful ingredients. One of my current favourites is a hearty minestrone soup loaded with lots of fresh vegetables to keep the winter cold away.
What's something that few people know about buying from you?
Fresh organic turmeric - turmeric is high on the health list currently being included in lots of recipes from lattes to curry.
Best thing to buy from your store in winter?
We have a great range of organic hearty winter vegetables great for soups, stews and curries - including turnips, swedes, celeriac, leeks, purple and yellow carrots.
You can buy South Melbourne Market Organics produce online via YourGrocer.
Better food starts today
Same day grocery delivery from the best local shops