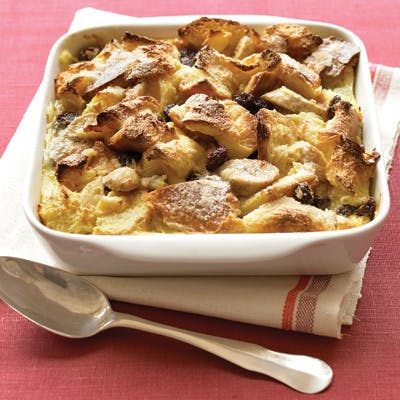 Banana Raisin Bread Pudding
Ingredients...
Butter
2 large eggs
1 tsp pure vanilla extract
¼ tsp salt
½ cup sugar
1 tbsp sugar
2½ cups whole milk
350 grams bread (bakery bread that's a few days old is perfect)
3 ripe bananas
½ cup raisins
Method...
Preheat oven to 180C with rack set in lower third of the oven
Butter a shallow 2 liter baking dish; set aside
In a large bowl, whisk together eggs, vanilla, salt, and 1/2 cup sugar until combined, then whisk in milk
Add bread, bananas, and raisins and toss gently to combine. Set aside to let bread absorb liquid, about 10 minutes, stirring occasionally
Transfer mixture to prepared baking dish and sprinkle with the remaining tablespoon of sugar
Bake until a toothpick inserted into the center of the pudding comes out clean, around 50 to 60 minutes
Let cool 10 minutes before serving
Enjoy!
Better food starts today
Same day grocery delivery from the best local shops