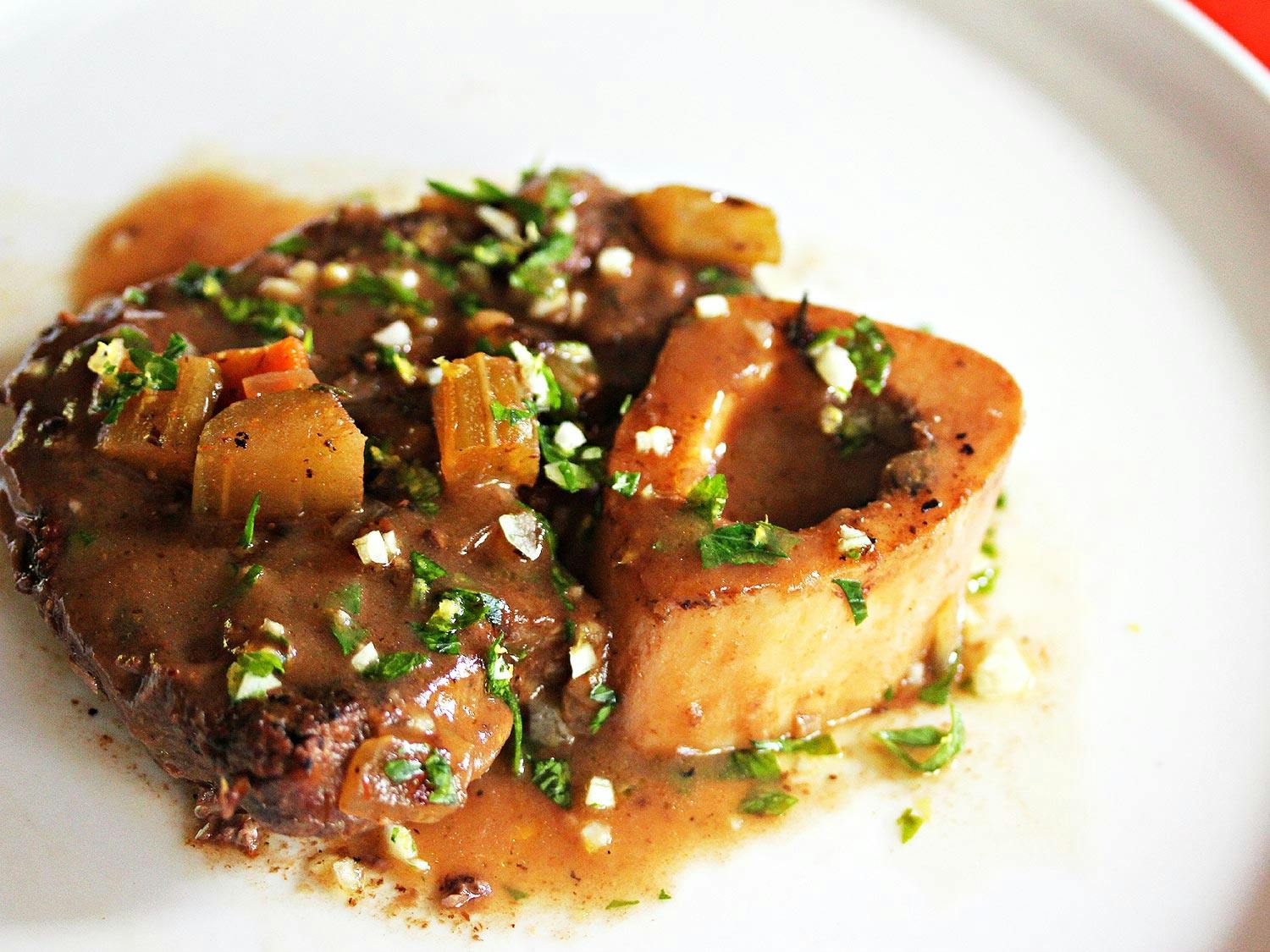 Beef Osso Buco with Gremolata
If you're into meat, it's hard to resist a rich, flavourful slow-cooked beef dish on a cold winters night. This recipe takes around 30 minutes to prepare, then kick back and let the slow cooker do rest of the work.
Ingredients...
For the beef:
4 cross-cut, bone-in beef osso bucco rounds (about 1kg total)
Salt and freshly ground black pepper
1 cup plus 2 tablespoons all purpose flour, divided
1 1/2 tablespoons extra-virgin olive oil
1 medium onion, diced (about 1 cup)
2 carrots, peeled and diced (about 1 cup)
1 stalk celery, diced (about 3/4 cup)
2 1/2 tablespoons tomato paste
4 medium cloves garlic, finely chopped (about 4 teaspoons)
1/2 cup dry white wine
1 cup chicken stock
1 1/2 teaspoons balsamic vinegar
1/2 teaspoon dried oregano
4 sprigs thyme
2 bay leaves
Pinch ground cloves
For the Gremolata:
1/2 cup flat-leaf parsley, finely chopped
1 tablespoon grated zest from 1 or 2 lemons
2 medium cloves garlic, minced (about 2 teaspoons)
Method...
1. For the beef: Pat shanks dry using a paper towel. Place 1 cup flour on a plate. Season beef with salt and pepper and dredge in flour, shaking off excess. Heat oil in a large Dutch oven over medium-high heat until lightly smoking. Add meat and cook without moving until well browned on first side, about 5 minutes. Flip and cook until browned on second side, about 4 minutes longer. Transfer to a slow cooker.
2. Add onion, carrots, and celery to the Dutch oven, reduce heat to medium, and cook, stirring occasionally, until vegetables begin to soften, about 7 minutes. Add tomato paste and garlic. Stir and continue cooking until fragrant, about 1 minute longer. Add wine and scrap up any browned bits from the bottom of the pot using a wooden spoon.
3. Transfer the contents to a slow cooker and add stock, vinegar, oregano, thyme, bay leaves, and ground clove. Season with salt and pepper and cook on low until meat is tender, about 6 hours.
4. Remove and discard thyme sprigs and bay leaves. Skim fat from the sauce and transfer 1/2 cup of gravy to a medium saucepan. Whisk the remaining 2 tablespoons of flour into the reserved gravy until no lumps remain. Add the rest of the sauce to the saucepan. Whisking frequently, bring the sauce to a rolling boil over high heat and cook until the sauce achieves a gravy-like consistency, about 4 minutes. Season to taste with salt and pepper.
5. For the Gremolata: Meanwhile, combine parsley, lemon zest, and garlic in a small bowl
6.Arrange beef on a platter and spoon sauce on top. Garnish with gremolata and serve.
Enjoy!
Better food starts today
Same day grocery delivery from the best local shops