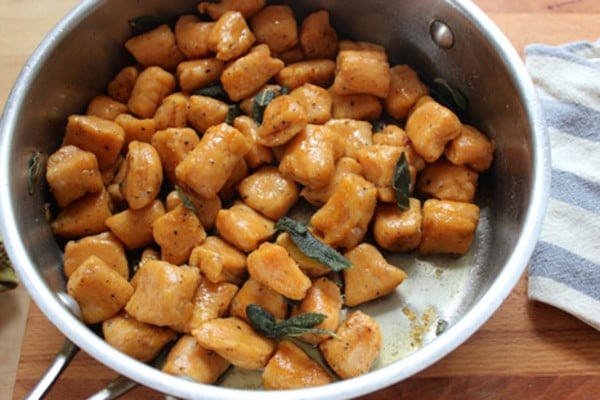 Pumpkin Gnocchi Anyone Can Make
Ingredients...
1 large potato, baked and cooled (or zapped for 6 - 10 minutes in the microwave until soft)
1 large egg, beaten
1 cup pumpkin puree (you can either make from scratch or use canned)
1 1/2 cups all-purpose flour, plus more for dusting
1/2 tsp grated nutmeg
3/4 tsp salt
1/2 tsp ground black pepper
1 to 2 tbsp water, as needed
6 tbsp butter
16 sage leaves
Method...
1. Place a large pot of salted water over high heat and bring it to a boil.
2. If you have a ricer, peel the potato and pass it through the ricer. If you don't have a ricer, cut the skin-on potato in half, and run the cooked side over the holes of a box grater, discarding the skin when all of the flesh has been grated.
3. To the potato, add the egg, pumpkin, flour, nutmeg, salt and pepper. Blend the mixture with a fork, stirring it just until combined. If there's not enough liquid to hydrate all of the flour, add a few splashes of water as needed.
4. Lightly dust a work surface with flour and turn the dough out onto it.
5. Cut the dough into six portions. Working with one portion at a time, gently roll the dough into a log that is about 3/4-inch thick. Using a sharp knife, cut the dough into gnocchi that are about 1-inch long.
6.  Transfer the cut gnocchi to a baking sheet and continue rolling out and cutting the remaining dough.
7. Working in batches as needed, boil the gnocchi until they are cooked through and begin to float, about 3 minutes. Remove the cooked gnocchi from the water with a slotted spoon or spider and reserve.
8. When all of the gnocchi are almost done boiling, place a large sauté pan over medium-high heat with the butter and sage. Cook the butter, swirling the pan occasionally, until it begins to brown on the bottom and smells nutty, 2 to 4 minutes (keep an eye on it as it will go from browned to burnt very quickly).
9. Remove the butter from the heat and immediately add all of the gnocchi to the pan. Gently toss the gnocchi in the brown butter and season them with salt and pepper.
10. Serve the gnocchi immediately with the crispy sage leaves and a drizzle of any butter that may be left in the pan.
Recipe and photo credit: http://www.rachaelray.com/2013/12/27/pumpkin-gnocchi-with-sage-brown-butter/
Better food starts today
Same day grocery delivery from the best local shops