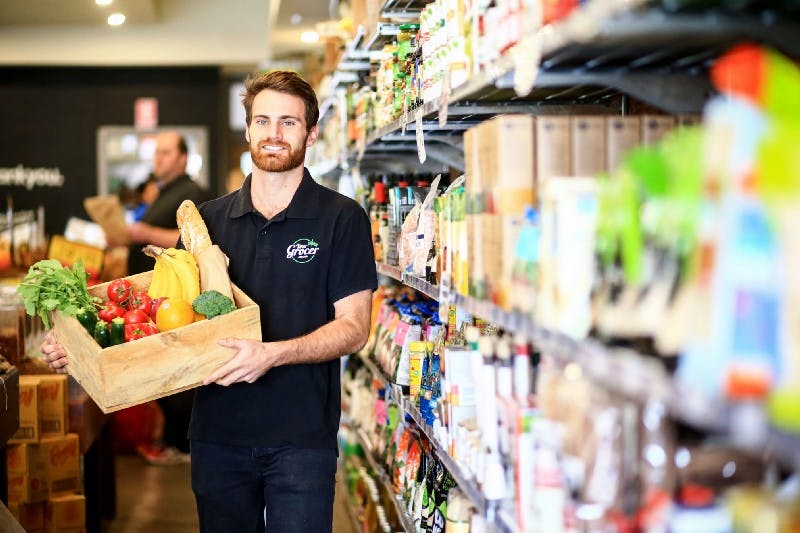 How the launch of Amazon will help YourGrocer
In the 2000's, Amazon made online shopping normal. This really screwed up the market share of incumbent brick-and-mortar players. Meanwhile, savvy retailers capitalised on the new demand for online shopping — generated and paid for by Amazon.
Amazon Fresh threatens to shift consumers attitudes again — this time it's groceries. Once again, the smart and nimble operators stand to benefit from a once in a life time shift in consumer behaviour.
Here are my thoughts on why Amazon entering Australia can only be a good thing for my company, YourGrocer.
Amazon will get more Australians buying food online
With 3% of our groceries purchased online, Australia lags the UK by around 6 years, where 7% of groceries are purchased online.
Australia should achieve online penetration of 5% by 2020 as it follows suit with the UK. Our densely populated eastern seaboard combined with a high proportion of Millennials (40% of the population) who are comfortable buying online reveal an environment fit for change. Amazon's launch will simply speed this up.
In the UK, pure-play grocery start-ups like Farm Drop have experienced rapid growth as Amazon Fresh helps to grow the pie. Farm Drop raised £7 million for growth funding in April 2017.
Amazon have the big retailers in their crosshairs
Coles and Woolworths have had some of the highest EBIT margins globally for decades, and with 60% of the grocery market between them, Amazon has these two mammoths in its sights. Amazon will switch customers by offering a better range, good prices and convenient delivery times. Amazon has demonstrated its vertically integrated distribution network, buying power, bundling through memberships and cross selling can achieve some amazing loyalty amongst customers.
YourGrocer's niche is defensible from Amazon
Whilst Amazon's vertical integration and buying power make them hard to beat in the non-perishables department, fresh produce doesn't work the same way. UK and US customers have consistently complained about the poor quality of Amazon Fresh produce, because vertical integration doesn't lead to quality produce.
Buying in bulk and warehousing centrally leads to the same quality levels as a supermarket like Coles or Woolies. Coupled with the fact that consumers are more picky with fresh produce when it's delivered (because someone else picked it, not them) you can see why it's hard for Amazon to compete on quality.
Fresh is a product category that's dramatically improved by owner-operators in the supply chain. YourGrocer customers trust Frank the butcher to choose their steak, and Joe the greengrocer pick their avocados.
That is YourGrocer's unique strength. Our model of hundreds of local stores, many of them multi-generation family businesses, is defensible and cannot be replicated. These businesses are the unique quality control for our customers. For consumers who want quality but need convenience, YourGrocer remains the first choice.
Wesfarmer's MD Richard Goyder predicted that the arrival of Amazon in Australia "will eat all our (retailers') breakfasts, lunches and dinners". He is right Coles and Woolworths are going to go hungry.
Amazon will speed up adoption of online shopping in Australia just as YourGrocer is establishing its position as the best online retailer for fresh produce.
We couldn't have asked for better timing.

Morgan Raineri. Co-founder at YourGrocer
Better food starts today
Same day grocery delivery from the best local shops