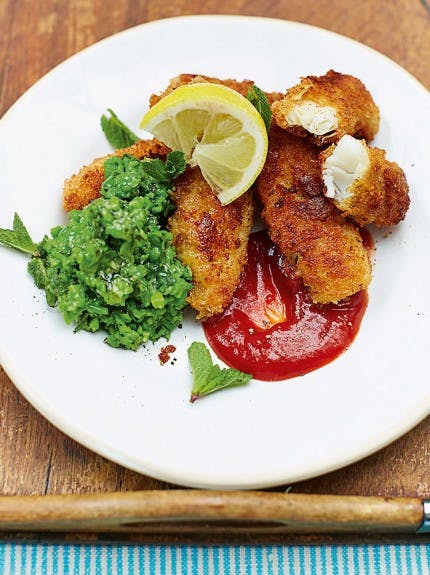 Fancy Fish & Chips with Minted Pea Puree
Forget the greasy shop-bought fish and chips and give this delicious alternative a go. A nice, low-effort meal for entertaining guests or getting some more Omega3 into the kiddos diet.
What you'll need...
450 g firm white fish (Cod, Ling, Blueeye, John Dory, Barramundi are all good choices)
500 g frozen peas
5 tablespoons plain flour
1 tablespoon smoked paprika
½ unwaxed lemon , zest and juice from
Sea salt
Freshly ground black pepper
2 large free-range eggs
3 slices of wholemeal bread , (100g)
Olive oil
½ a bunch of fresh mint
5 - 6 potatoes. Kipfler, Desiree and Royal Blue's are good options for roasting OR go for sweet potatoes for an even healthier option
Here's how to pull it all together...
Rinse off the fish fillets under cool, fresh water and set aside on some paper towel
Pre-heat the oven to 180C (fan-forced) and peel and slice the potatoes. Rinse and pat dry with a tea towel, then coat with olive oil and pop into the oven for 45 - 50 minutes
Put the peas into a colander in the sink and pour over boiling water to defrost them, then set aside
Place the flour in a shallow bowl with the paprika, lemon zest and a pinch of salt and pepper, then beat the eggs in another shallow bowl
Blitz the bread in a food processor to fine breadcrumbs, then tip onto a plate
Slice the fish fillets lengthways into portions then add to the flour and toss to coat (you'll need to do this in batches)
Dip the flour-dusted fish pieces into the egg, shake off the excess, then roll in the breadcrumbs until well coated and place on a tray
Heat 1 tablespoon of oil in a large non-stick frying pan over a medium heat. Add the fish (you'll need to do this in batches) and fry for 2 to 3 minutes on each side, or until golden, crispy and cooked through. Remove to a double layer of kitchen paper to drain while you fry the next batch, adding a splash more oil, if needed
Meanwhile, blitz the peas in a food processor until they're smashed up to a nice, chunky purée, or mash well with a fork. Tip into a bowl, then finely chop and add the mint leaves, squeeze in the lemon juice and season
Mix well and serve alongside the crispy fingers, roasted potato chips and a nice green salad. If you want a dollop of tomato sauce, too, that's totally fine by us!
Enjoy!
This recipe was inspired by Jamie Oliver
Better food starts today
Same day grocery delivery from the best local shops