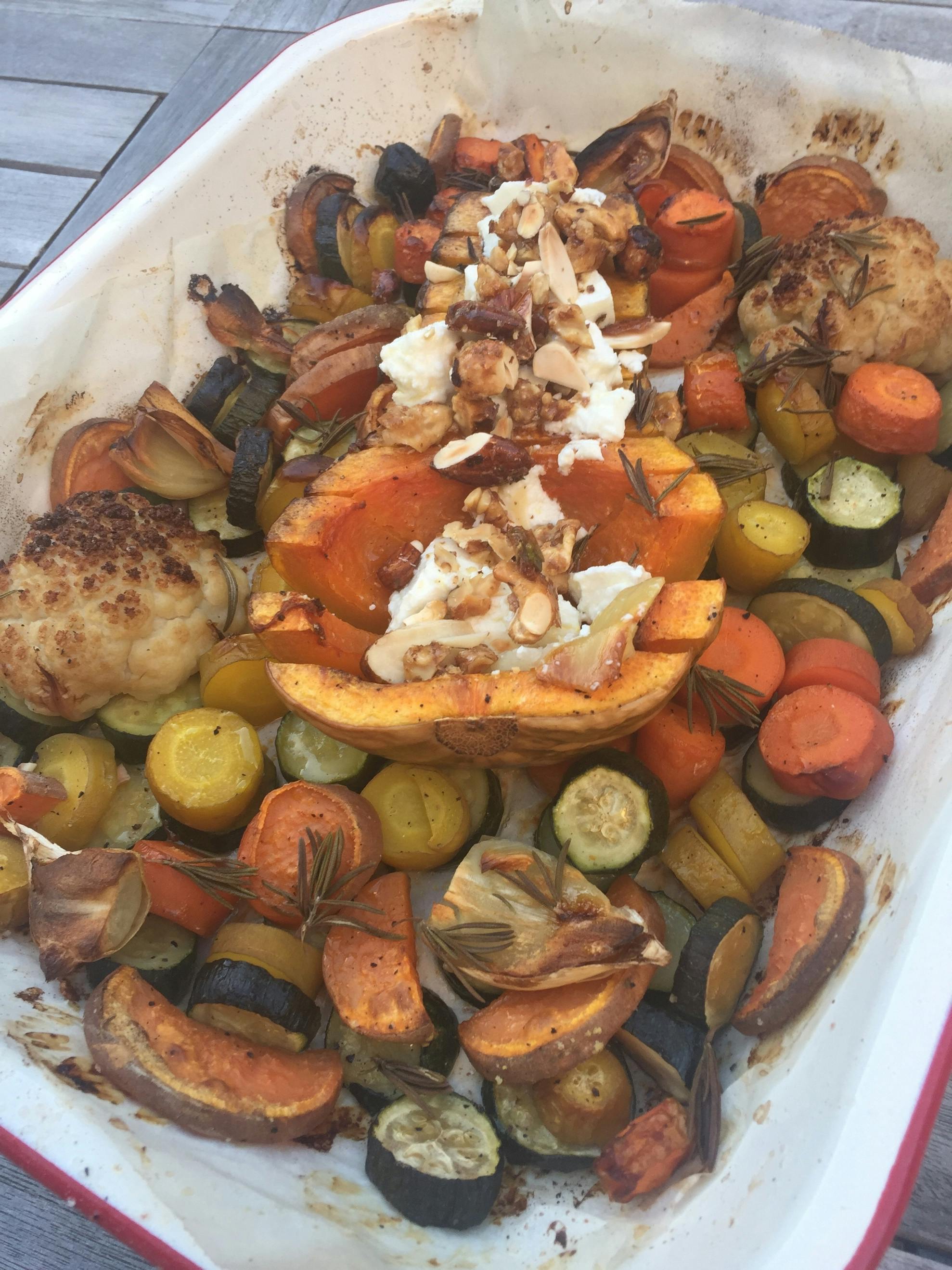 Hearty Vegetable Bake
With the Autumn comes produce that roasts and stews very well and a big vegetable bake makes for a perfect side with any meal. It's quick and simple to prepare and the leftovers are great for the next day.

Once the chopping is done, let the oven do its magic while you can attend to more important things around the house (Netflix binge anyone?).

You can pair the bake with a grilled steak or roast chicken or it can be enjoyed simply with a fresh rocket salad dressed with olive oil and lemon.

Try this easy dish this week or weekend !
Katie x
Ingredients
1x Butternut pumpkin half
1x Cauliflower half
1x Sweet potato
3x Zucchini
1x Small red onion cut into quarters
2x Sprigs of rosemary
1x Garlic glove halve
Olive oil
Salt and pepper
Meredith goats cheese
Homemade sweet and savoury nuts
Method
Preheat oven to 180 degree fan force
Slice the butternut pumpkin but not all the way to the bottom, you want to keep the integrity of the structure
Break the cauliflower into florets
Cut the red onion into quarters
Slice the other vegetables into chunky bites
Line a medium deep baking dish with baking paper
Place the butternut pumpkin in the middle and scatter the vegetables all around
Place the garlic in strategic spots and scatter rosemary leaves over the vegetables
Season with salt and pepper and drizzle a nice amount of olive oil
Depending on the size of your butternut pumpkin, the bake will take roughly 30-40 mins. I like to take it out when things start to caramelise and brown nicely
Once ready and slightly cooled down add a few squares of Meredith Goats cheese over the pumpkin and scatter the nuts
BONUS! Sweet and savory nuts
These homemade sweet and savoury nuts are perfect for as a salad or meal topper, snack or nibbles with a glass of wine.

Ingredients
1x bag of mixed nuts - preferably 'activated'. Activation happens through soaking the nuts, this process increases the nutrient value of the nuts as well as break down the problematic compounds that help enhance their digestibility
2x tablespoon of melted rice malt syrup
Sprinkle of garlic salt- I used Weyhill Chilli Garlic Salt

Method
Combine all ingredients in a bowl
Transfer ingredients to a baking dish and light roast them till you see the nuts turn a golden brown
Leave out of the oven to cool and harden
Store them in an air-tight container or mason jar
Enjoy!
Better food starts today
Same day grocery delivery from the best local shops