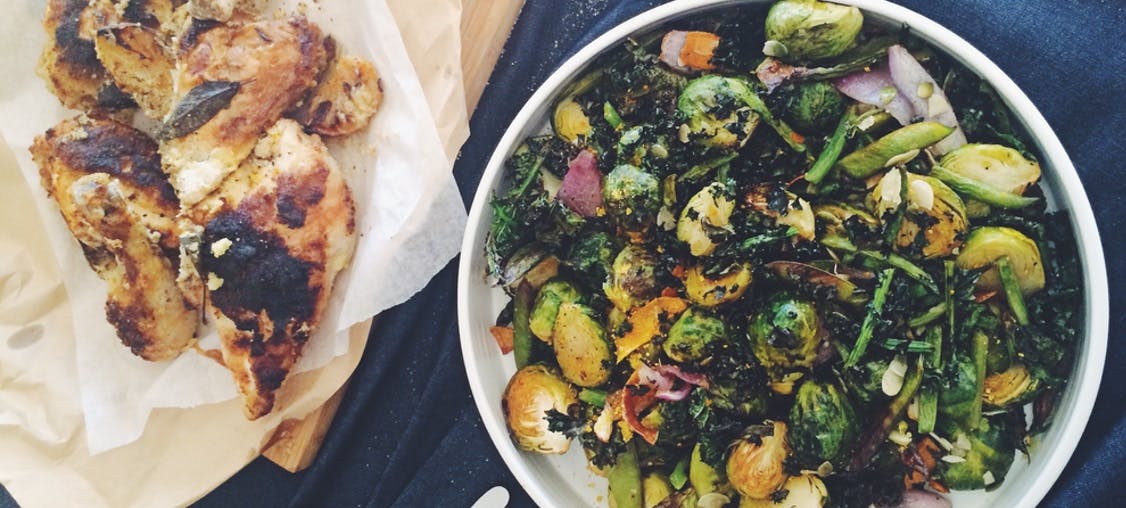 Warm Brussel Sprouts with Pistachio Crumbed Chicken
This dish be served with some greek yogurt with the cooked lemon squeezed through it, some olive oil and a sprinkle of salt and pepper. Yum!
What you'll need...
1 large organic chook ( I had my butcher cut into 8 pieces)
Large handful of sage shredded
2 garlic cloves crushed skin on
1 1/2 cups pistachios finely milled
2 eggs
Flour to coat chicken
Now to put it all together...
Heat oven to 180'c
Blitz pistachios and sage in a food processor just to break up into pieces ( try and keep a bit chunky for crunch factor) and combine with a bit of flour in a large bowl
Whisk eggs together in a large bowl
Coat chicken in egg, then pistachio and flour mixture until well coated
Place in fridge and let chill for about 15 minutes
In a large baking dish place brussels spout, kale, beans, peas, onion, garlic and lemon quarters.  Coat well with olive oil and salt and pepper
Place in oven and let bake for about 1/2 hour or until vegetables are a nice golden colour
Meanwhile in a large frying pan over medium heat,  add a couple of tablespoons of olive oil and add chicken.  Cook each side of chicken for about 5 minutes each and when finished place for a further 10 minutes
Place warm brussels in a large bowl sprinkle with some olive oil, squeeze of lemon and salt and pepper
Enjoy!
Better food starts today
Same day grocery delivery from the best local shops