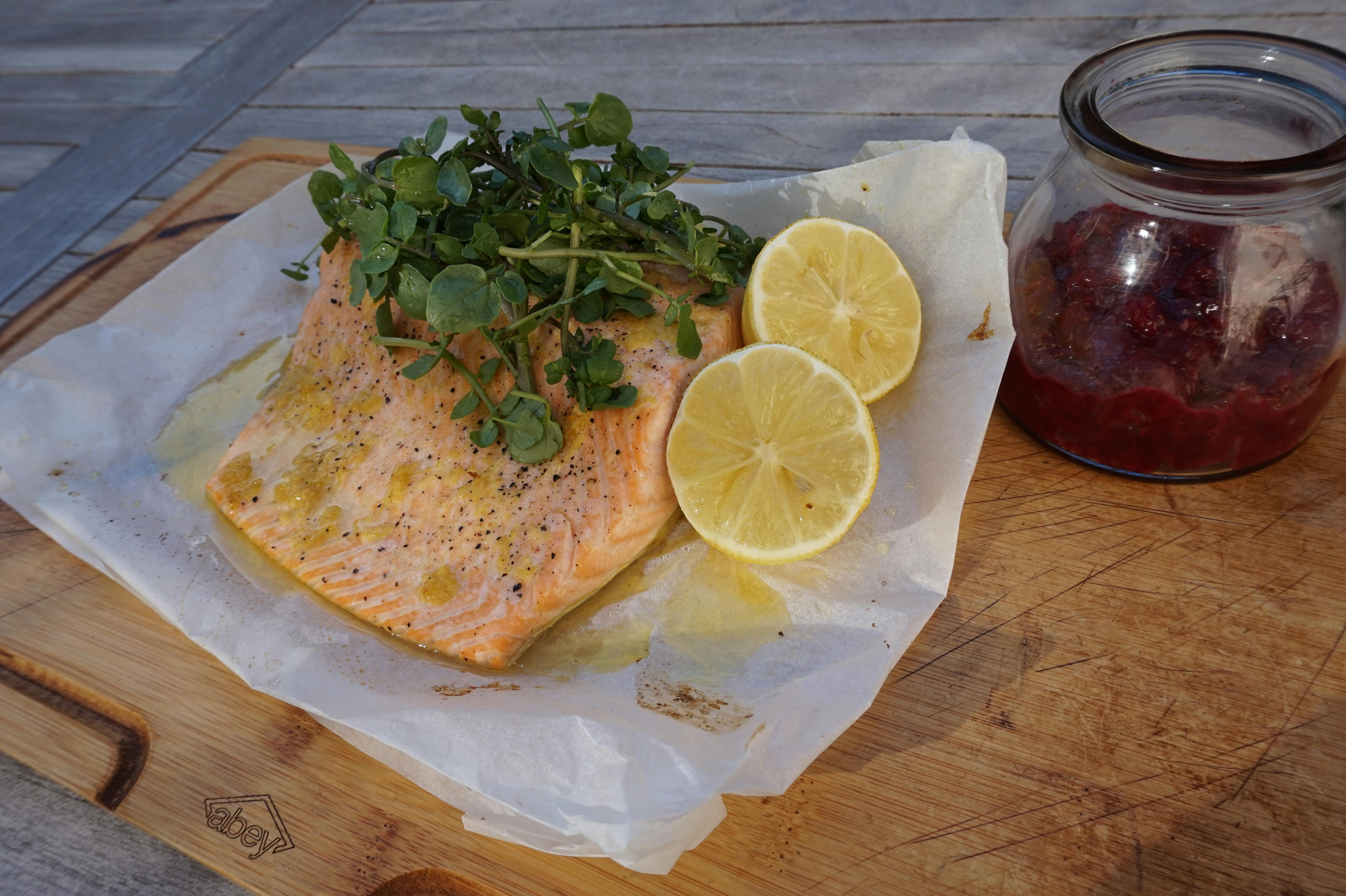 Baked Salmon + Beetroot Relish
Just like that it is Autumn. However Summer has not disappeared just yet, as us Melbournians are still enjoying some balmy nights.
Before you dust off your slow cookers in preparation for the inevitable chill, here is a dish that we can still enjoy on a summer evening.
Salmon is a dish that roasts or bakes well- it really absorbs the flavour you put on it. But with this dish, I am doing as the French do, and letting the fish be showcased with the perfect pairing of olive oil and lemon zest.

Salmon is a protein rich in omega 3. I encourage this fish to be a part of a family's meal repertoire, even children starting on solids. No matter what the age, it should be a part of your weekly menu. The mild flavours of this dish means it can be loved by the whole family and makes a perfect filling for sandwiches the next day or scattered over a salad for lunch.
This dish is a perfect midweek meal- simple, tasty and quick- even the beetroot relish. If you don't have horseradish at home, mustard works well with it too.
Baked salmon with a beetroot relish
Prep time 5 mins
Cook time 10 mins
Serves 6
Shopping list
•         1 Boneless salmon side with skin on (you can use salmon portions if preferred)
•         Fresh watercress sprigs
•         2tsp Olive oil
•         Lemon- zest of whole lemon
•         Salt and pepper
To do
1.      Preheat oven to 180C 
2.      Line a shallow baking tray with baking paper
3.      Place salmon on tray and drizzle with olive oil and sprinkle lemon zest all over
4.      Season with salt and pepper
5.      I like to add the two halves of the lemon to bake with the fish
6.      Bake for 8-10 mins (depending on size of fish)
7.      In a bowl add watercress, juice of lemon and dress with olive oil
8.      Once salmon is done, place on bench to rest covered with baking paper and clean tea towel (this helps the salmon not dry out)
9.      Top the watercress over the warmed salmon. 
Grammies famous beetroot relish
Prep time 10 mins
Cook time 20-30 mins (until liquid has evaporated)
Store in a mason jar for a week
Ingredients
•         2x beetroots (200g) peeled and grated 
•         2 tbsp. of sugar/raw honey/ rice malt syrup
•         ½ cup of water
•         ½ tsp salt
•         ½ tsp pepper
•         2 tbsp. of white wine vinegar
•         Zest and juice of half a Valencia orange
•         2-3 tbsp. of horseradish
•         2 tbsp. extra virgin olive oil
To do 
1.      Place all the ingredients in a pot and bring it to boil
2.      Simmer over a medium heat and stir occasionally
3.      When all the liquid has evaporated and the beetroot is nicely tender and glossy remove from heat and let cool
This relish not only goes well with salmon but it is fabulous on some sourdough and goats cheese.
Enjoy,
Katie x
Better food starts today
Same day grocery delivery from the best local shops