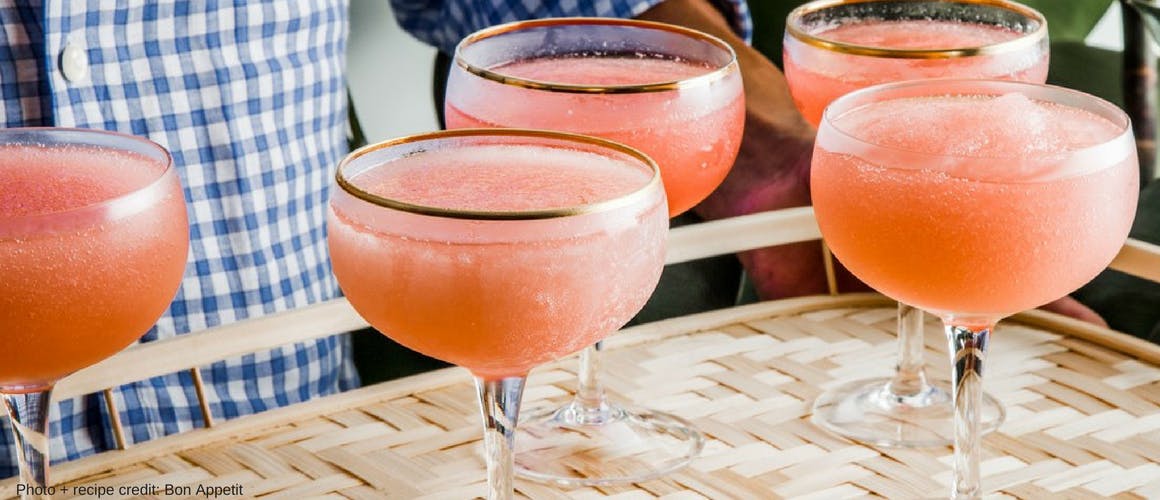 Frosè
First up, credit where credit is due! We've borrowed this recipe and pic from Bon Appetite - but it really is the most perfect one we've found so far.

Ingredients
1x 750m bottle Rose - Pinot Noir or Merlot rose is best for this
1/2 cup sugar
1 punnet strawberries, hulled and quartered
50ml fresh lemon juice

Method
To begin, pour the rose into a pan and freeze until alost solid - we recommend overnight, but 6 hours will do it too.

Bring the sugar and 1/2 cup water to a boil in a saucepan and allow the sugar to disolve. Remove from the heat and add the strawberries and allow the syrup to sit for 30 minutes. This will infuse the syrup with strawberry flavour!

Strain through a sieve and chill the syrup. Scrape the rose into a blender, add the lemon juice, 80ml of the strawverry syrup and 1 cup of crushed ice. Blend until smooth and thick like a slushy.

At this point, you can drink! Or you can return the blender jug to the freezer and freeze until your guests have arrived. To serve, give it another quick blitz and enjoy.
Better food starts today
Same day grocery delivery from the best local shops