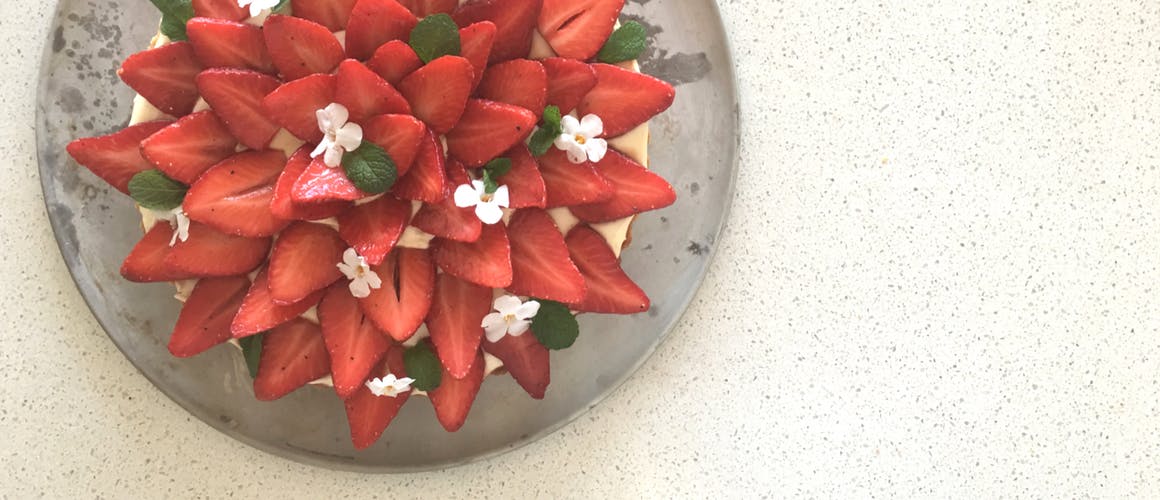 Strawberry Cheesecake Tart
As you may or may not have picked up during my little stint on MasterChef, I am a sugar addict. I love sugar. I live on sugar. I try to have some level of self restraint but more often than not, I fail. This gem of a tart relies on the natural sweetness of strawberries (with a little boost from my friend, icing sugar) so make this while they're in season!
Ingredients
2 punnets strawberries
1 packet careme vanilla shortcrust pastry (or make your own!)
2 x 250g Philadelphia
100g cream
3 tablespoons icing sugar
1 tsp vanilla bean paste
1 tablespoon balsamic vinegar
1 tablespoon icing sugar, extra
Freshly cracked pepper

Method
Blind bake the pastry: roll the pastry out until its 0.5cm thick and line your tart pan. Cover with baking paper and rice and bake at 180C for 15 minutes. Remove the paper and weights and return to the oven until golden - this should take another 10 minutes or so.

Macerate the strawberries: cut the strawberries into slices and place in a bowl. Add the 1 tablespoon icing sugar, cracked pepper (around 1/2 tsp - dont use ground!) and the balsamic vinegar. Allow to sit for 15 minutes to macerate.

The filling: cream together the cream cheese and sugar until smooth. Add the vanilla paste and the cream and whip until stiff peaks have formed.

To assemble: once the tart shell has cooled, add the filling and arrange the strawberries, being sure to not add too much of the natural syrup. Decorate with edible flowers and fresh mint. Allow to set for 1 hour before serving.
Better food starts today
Same day grocery delivery from the best local shops