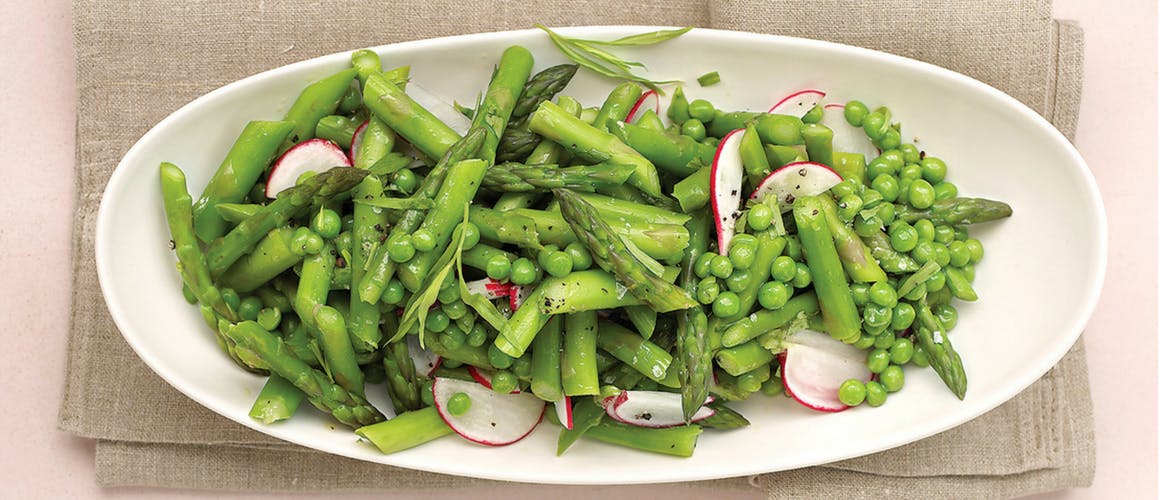 Asparagus, Pea & Radish Salad
This recipe is borrowed from our home-girl, Martha Stewart! Getting a repertoire of side dishes under your belt can make or break your cooking confidence. This salad is perfect coming into the warmer weather, serve along side your favourite meat, fish or chicken for a perfect light, spring time meal.
Ingredients
2 bunches green asparagus
2 tablespoons butter
1/2 packet frozen, baby peas
1 bunch radishes
1/2 bunch fresh tarragon
Juice and zest of one lemon
Salt and pepper to taste
To serve
Your favourite grilled meat or fish!

Method
Bring a large pot of salted water to the boil. Trim off the ends of the asparagus - you can do this using the snap test; hold both ends of the asparagus spear and bend, where it snaps off is where you should trim. This will remove that fibrous stalk. Blanch the asparagus for 3-4 minutes or until bright green and still crisp.

In a large pan, heat the butter and add the asparagus and defrosted peas. Cook, tossing around in the butter for around 5 minutes, or until everything is warmed through. Season with salt and pepper and add in the zest and lemon juice.

To finish, stir through the radishes and fresh tarragon - if you cant find tarragon, replace with any green herb; parsley, mint, basil etc. Or leave it out completely!

Serve warm and with another seasoning of salt and pepper.
Better food starts today
Same day grocery delivery from the best local shops