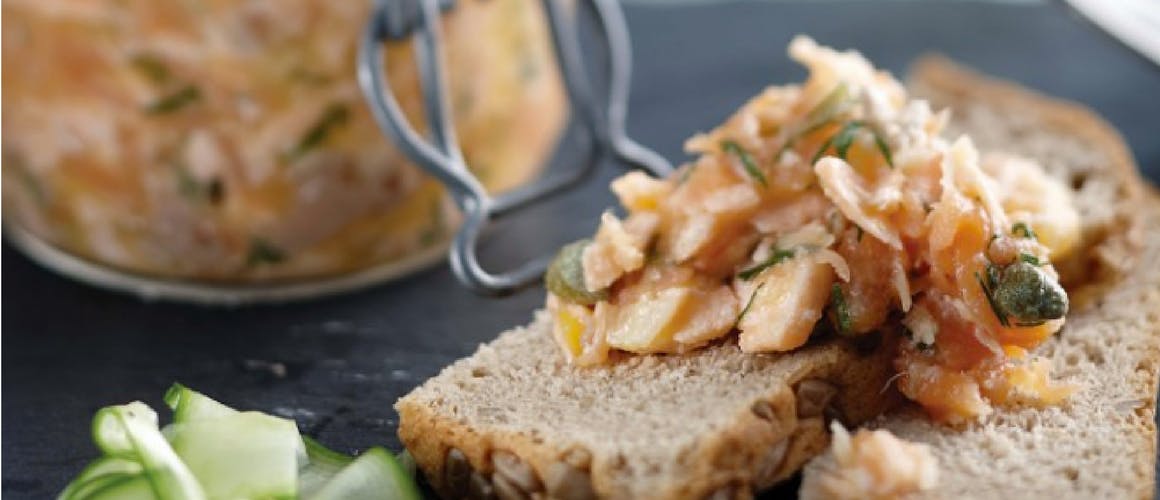 Salmon Rilette
I've got to admit, salmon rilette is my all time favourite way to eat salmon. If I see this on a cafe menu with poached eggs, I'm definitely going to order it. It's just the best.
Ingredients
200g smoked salmon
1 salmon fillet
150g sour cream
1/2 red onion, finely diced
2 tablespoons capers
2 tablespoons chopped dill
2 tablespoons chopped parsley
Sprinkling cayenne pepper
Juice and zest of half a lemon
Salt and pepper to taste
Crusty bread to serve

Method
Boil the kettle. Place the salmon fillet into a bowl and cover with boiling water and glad wrap. Allow to sit until warm to touch - this will produce the perfectly poached piece of salmon.

Chopping the smoked salmon and combine with the rest of the ingredients. Flake over the poached salmon and stir to incorporate well.

Check the seasoning - add more of anything, if you love capers - add another tablespoon! This is an easy dish that is completely adaptable. Serve with slices of the crusty bread - you can also toast the bread for added crunch.

Serving idea's - serve this with some cornichons, mixed lettuce, crackers or as a part of a grazing platter.
If you have any leftovers, this is great spread onto thick sourdough toast in the morning served with a poached egg.
Better food starts today
Same day grocery delivery from the best local shops