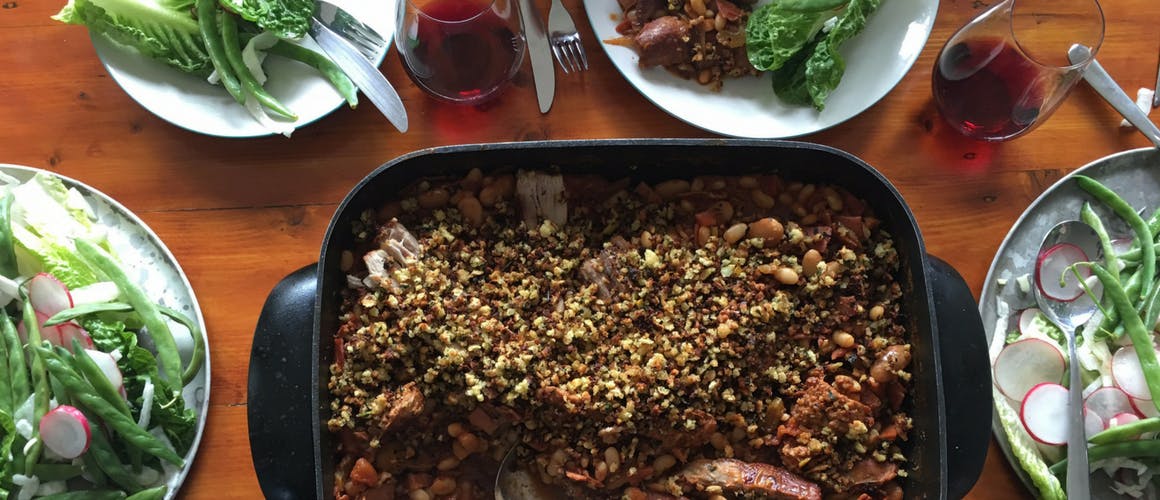 Pork Cassoulet
This French classic and national dish is not only delicious, but warming, straight forward and the perfect cover for a lot of vegetables!

This is not a classic recipe so feel free to adapt this to your tastes; leave out the pancetta, forget the pork belly, replace with chicken thighs. Thick cut bacon makes an excellent alternative, go with whatever works for your family.
Ingredients
4 pork and fennel sausages, cut on the diagnol
200g thick cut pancetta
500g pork belly
1 onion, sliced
2 cloves garlic, sliced
2 stalks celery, sliced
2 cans butter beans
4 tomatoes, diced
1 tsp paprika
1 tsp chilli flakes
3 slices stale bread, blended into crumbs
Salt and pepper, to taste
To serve:
Side salad
Bread

Method
Preheat the oven to 180C.

Generously salt the pork belly and place in the oven for 30 minutes. After 30 minutes, increase the heat to 220C for a further 20 minutes to get that skin extra crackly.

In a large cast iron pot saute your onion, garlic and celery until translucent. Add the pancetta and allow the fat to render. Add the beans (including the liquid they come in) and the diced tomatoes. Add in the sausages, spices and season with salt and pepper. Allow to reduce for 30 minutes or until thickened.

Remove the pork belly from the oven. Remove the crackling and slice up the meat. Add the meat to the cassoulet and if your crackling isnt crispy enough, return to the oven.

To finish the cassoulet, top with the bread crumbs and place under the grill for 10 minutes or until crispy.
Serve with a side salad and bread to mop up the sauce!
Enjoy.
Better food starts today
Same day grocery delivery from the best local shops