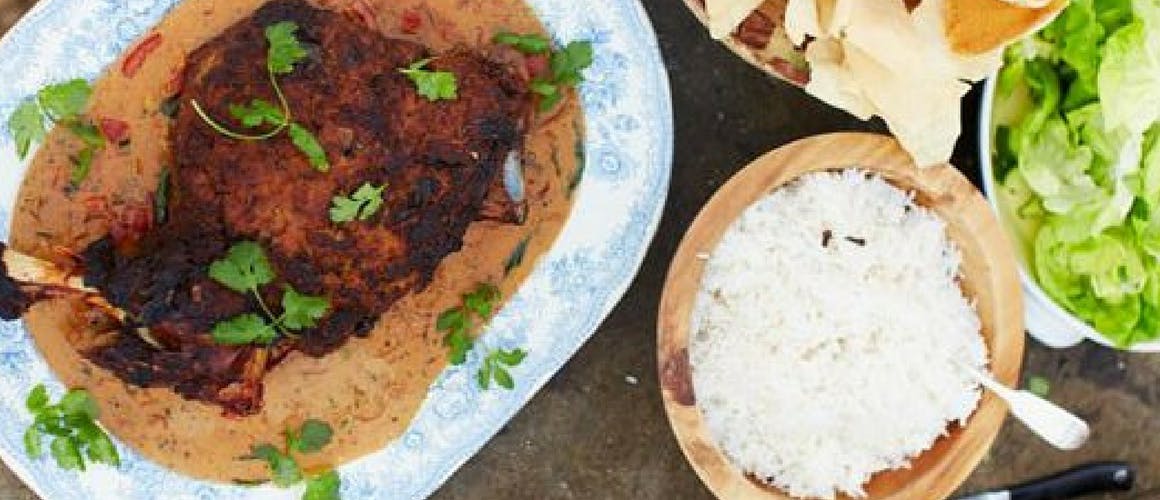 Empire Roast Lamb
Thanks to Jamie Olive for this amazing recipe! We had it for our Friday night team dinner (cooked by Morgan) and let me say, it was delicious. Strongly recommend you make this one night. Perfect weekend meal.
Ingredients
1x 2.5kg bone in lamb shoulder
Handful fresh curry leaves
olive oil
Sea salt
Fresh corriander

For the marinade
5cm piece of fresh ginger
1 bulb garlic, cloves peeled
1 large red onion
2 fresh green chillies
50g ground almonds
2 tablespoons natural yoghurt
1 tablespoon brown mustard seeds
1 tablespoons white wine vinegar

For the sauce
3 cm fresh ginger
8 cloves garlic, peeled
1 fresh green chilli
handful fresh curry leaves
4 large ripe tomatoes
1x 400ml tin coconut milk
Juice of half a lemon

Method

Blitz the marinade ingredients to a smooth paste in a food processor, then set aside.

Using a sharp knife, make incisions all over the lamb and poke the curry leaves into each one. Place the lamb into a roasting tray and massage over with half the paste. Pour the remaining paste in and around the tray, then cover with cling film and place in the fridge to marinate for 2 hours or overnight.

Preheat the oven to 220C. Remove the lamb from the fridge and allow to come to room temperature. Drizzle the lamb with olive oil and add a splash of water to the tray and place in the hot oven for 4 hours, or until the lamb is tender and falling away from the bone. After the first 30 minutes of cooking, reduce the heat to 130C.

For the sauce, using the roasting pan, fry together the chilli, garlic and ginger. Add the curry leaves and mustard seeds and cook for another minute before adding the chopped tomatoes and coconut milk.

Allow to thicken and reduce before adding salt, pepper and a squeeze of lemon. Transfer the sauce to the bottom of a large platter and top with the lamb. Finish with coriander, a drizzle of olive oil and serve with rice.

Enjoy!
Better food starts today
Same day grocery delivery from the best local shops