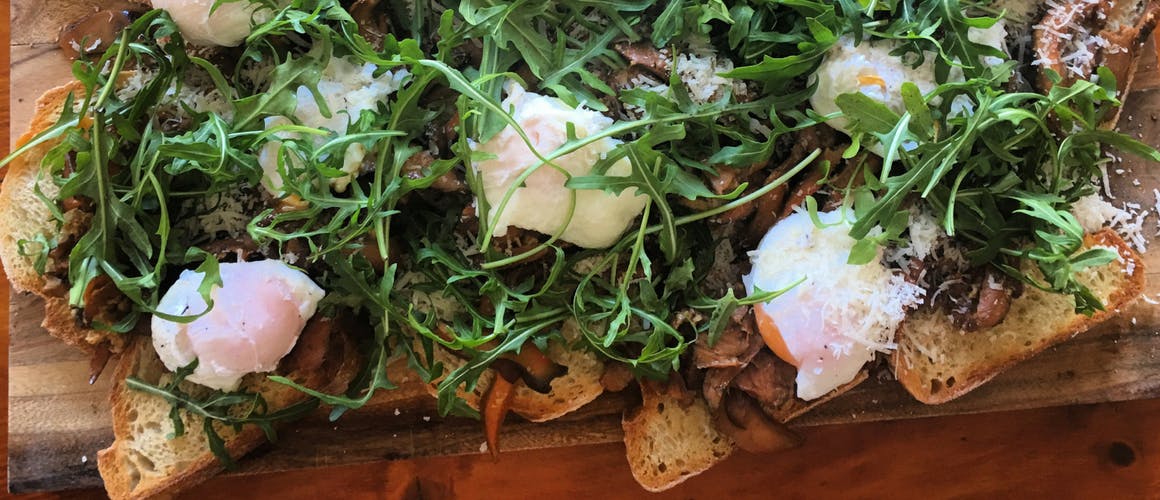 Pine Mushrooms Bruschetta
We picked so many pine mushrooms that we ended up eating them for days. Pasta, bruschetta, risotto, soup - these delicately flavoured mushrooms lend themselves beautiful to all types of cooking and meals. This is a super simple breakfast and if you cant get your hands on the pine mushrooms, substitute for any mushroom you like.
Ingredients
250g pine mushrooms, sliced
1 tablespoon butter
1 clove garlic, crushed
Salt and pepper to taste
4 eggs, poached
4 slices sourdough
Parmesan cheese, to serve
Rocket, to serve

Method
To poach your eggs: heat up a sauce pan of water until the water is just below the boil - simmering. Add in a couple tablespoons of white vinegar. Crack your egg into a small bowl and with a spoon, swirl the water in the pan.

Drop the egg into the water and do not touch it. Leave it for 3-4 minutes before removing with a slotted spoon. The more you touch the egg, the more you break up the egg white. Drain on paper towel.

*Make sure you are using the best quality, freshest eggs you can - old eggs don't poach well!

Pan fry the mushrooms in butter and garlic and season generously.

Top your toasts with the mushrooms, poached eggs, rocket and some parmesan.
Better food starts today
Same day grocery delivery from the best local shops