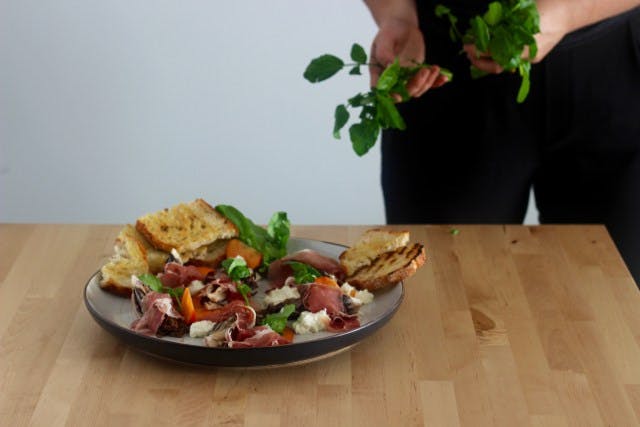 Fig & Prosciutto Salad
We got together with the beautiful Georgia from Farm to Face to create a three part vlog discussing how to get the most from your ingredients and reducing your kitchen waste. This recipe is an absolute winner - fig + prosciutto and day old crutons for scouping.
Ingredients
4 fresh figs
4 slices prosciutto
1 witlof, cut into 6 wedges
50g green beans
50g ricotta cheese
1 lemon, juice and zest
Good quality olive oil
Salt and pepper

Method
Heat a pan over medium heat and add 1 teaspoon of olive oil. Panfry the witlof on both sides until they are a nice golden colour and smell nutty. Season with salt and pepper and set aside to cool.

Combine the lemon juice, zest and ricotta together and whip with a fork or whisk until smooth, creamy and light. Blanch the green beans and set aside in ice water to refresh.

To assemble the salad, arrange the witlof in a serving bowl, tear over figs and arrange the prosciutto. Scatter over the green beans and top with a few dollops of the whipped ricotta. Dress the plate with olive oil and season.

To serve the salad, tear up some day old bread and toss in olive oil. Toast the bread in a fry pan until golden and crunchy. Use the pieces of bread to scoop up all the different elements of the salad.

Enjoy!
Better food starts today
Same day grocery delivery from the best local shops