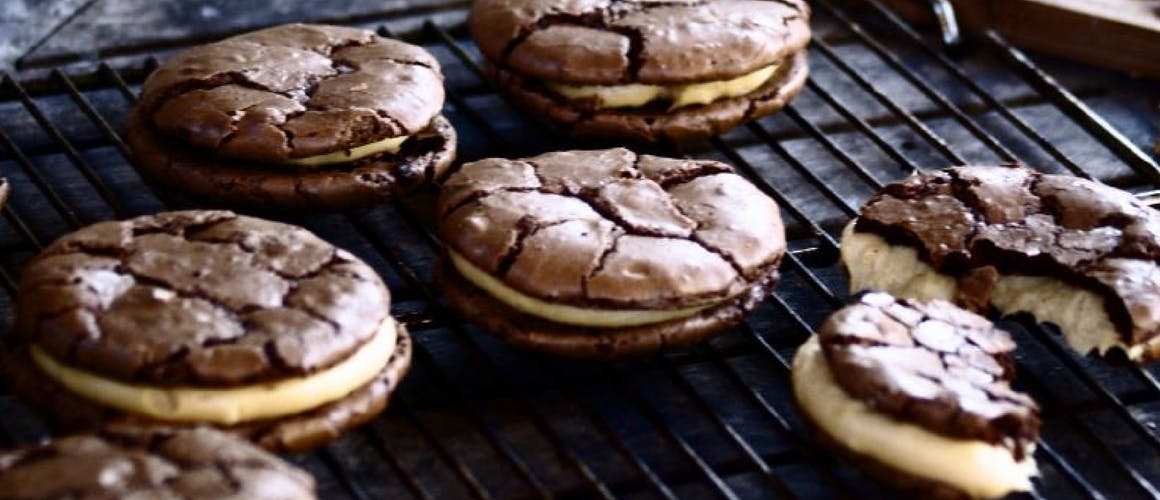 Salted Caramel Brownie Cookies
Salted Caramel Brownie Cookies
Have you heard of Butterbing cookies? We're obsessed. They are quite possibly the most dangerously deliciously cookies on the planet. If you haven't seen them in local cafes yet, fret not! We've found a very similar recipe, courtesy of donnahay.com.au. Give it a go!
Ingredients
350g dark chocolate
50g unsalted butter
2 eggs
150g caster sugar
1 teaspoon vanilla extract
50g plain flour
1/4 tsp baking powder
Salted caramel filling
165g caster sugar
60ml water
125ml cream
150g unsalted butter
Sea salt flakes, for sprinkling
Method
Preheat the oven toe 180C. Place 200g of the chocolate and butter into a microwaveable bowl and melt. Stir together until smooth and set aside.
Place the eggs, sugar and vanilla in an electric mixer and whisk for 15 minutes or until pale and creamy. Stir through the sifted flour, baking powder and chocolate mixture. Fold through the remaining 150g dark chocolate pieces. Set aside for 10-15 minutes to thicken - this will make the mixture easier to handle.
Drop tablespoonfuls of the mixture onto baking trays lined with baking paper. Bake for 8-10 minutes or until puffed and cracked. Allow to cool.
For the icing, place the sugar and water in a saucepan over medium heat and allow to caramelise - this will take 10-15 minutes. Do not stir, you don't want this to crystallise, but if it does, it will usually melt back together so don't stress! Add the cream and the butter and stir until smooth. The mix will bubble up so make sure you're using a large enough saucepan.
Allow to cool completely in the fridge. Once cold, using an electric whisk to whisk until soft peaks have formed. Spread onto one half of a cookie, sprinkle with sea salt and sandwich.
These cookies are the bomb!
You're welcome.
Better food starts today
Same day grocery delivery from the best local shops